Experienced sailors know that the magic moments on the water make sailing an addictive passion. But they also know that in order to make the most of it, you must be well prepared! Like any trip, a sailing holiday requires organisation, with a little extra touch of sea air. In this article, you will find practical tips for planning every step of your boat hire, from booking to arrival at the docks. For those who prefer a cabin cruise, check out our dedicated article. 
1. Questions to ask yourself before booking a boat 
Which crew? 
A cruise project is often born from the desire to enjoy a beautiful family holiday, to live a unique experience with friends... In short, it all starts with the crew! It is essential to be familiar with the nautical experiences of each person (first cruise, sailing enthusiast...) and their expectations (sports sailing or rather relaxation and discovery). 
Which destination? 
The choice of sailing area is one of the most difficult to make as the options are so attractive. Thanks to GlobeSailor, you will find no less than 180 destinations! It is your crew who will help you narrow down the possibilities.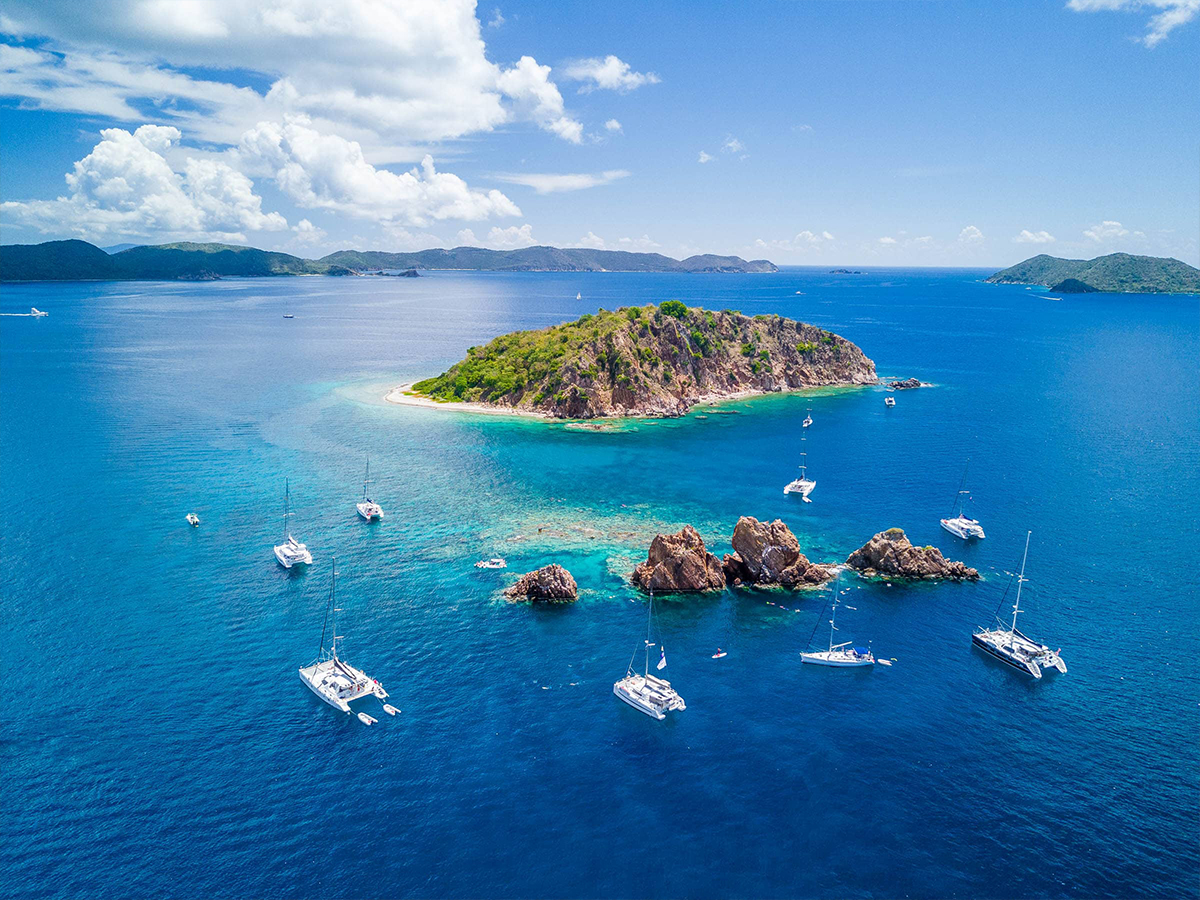 According to their preferences of departure date (summer or winter), their travel dreams (in the Mediterranean or on the other side of the world), their nautical CVs or the presence of children on board, your selection will be refined. We also advise you to ask your GlobeSailor advisor for advice. Some destinations are dream destinations, but the sailing conditions may not be suitable for your crew (long voyages, unstable winds, etc.). For example, for a discovery cruise with children, the archipelagos are perfect, offering short and safe sailing.
Which boat? 
Several criteria are to be considered here:
→ The type of boat: are you more of a sailboat or motorboat person? What sailing experience do you have? In terms of habitability, houseboats will always be more expensive than a catamaran for example. 
→ Number of cabins: A double cabin will be perfect for a couple or two children. Be sure to consult the boat's technical data sheets to find out the number of bathrooms. 
→ The presence of a crew (skipper and/or hostess): Where will the crew sleep? In the tip of the catamaran, the saloon or a dedicated cabin? For maximum comfort and to let the skipper rest, it is better to reserve an independent cabin for them!
→ The budget: Year of the boat, equipment, seasonality, destination... Many factors can influence the price of your charter. GlobeSailor always tries to find the boat that best suits your budget.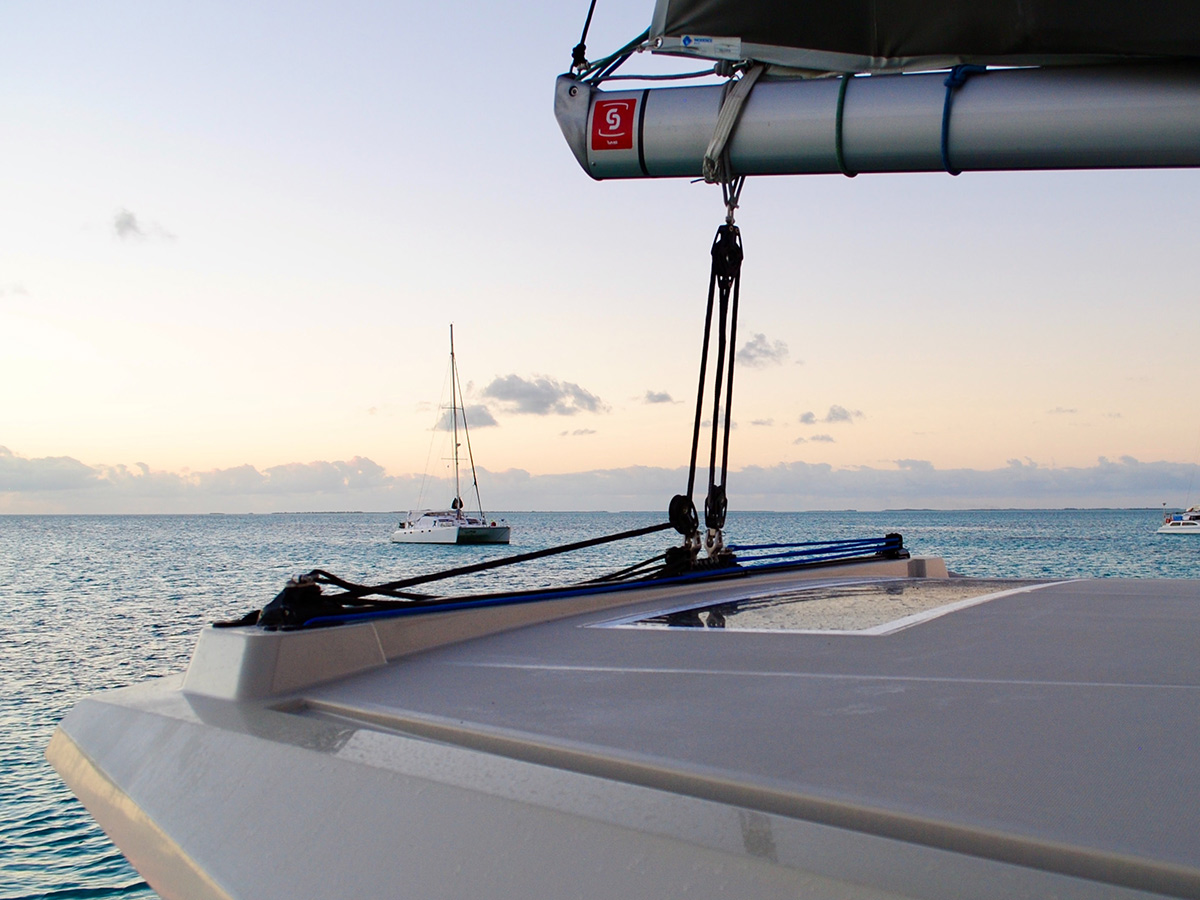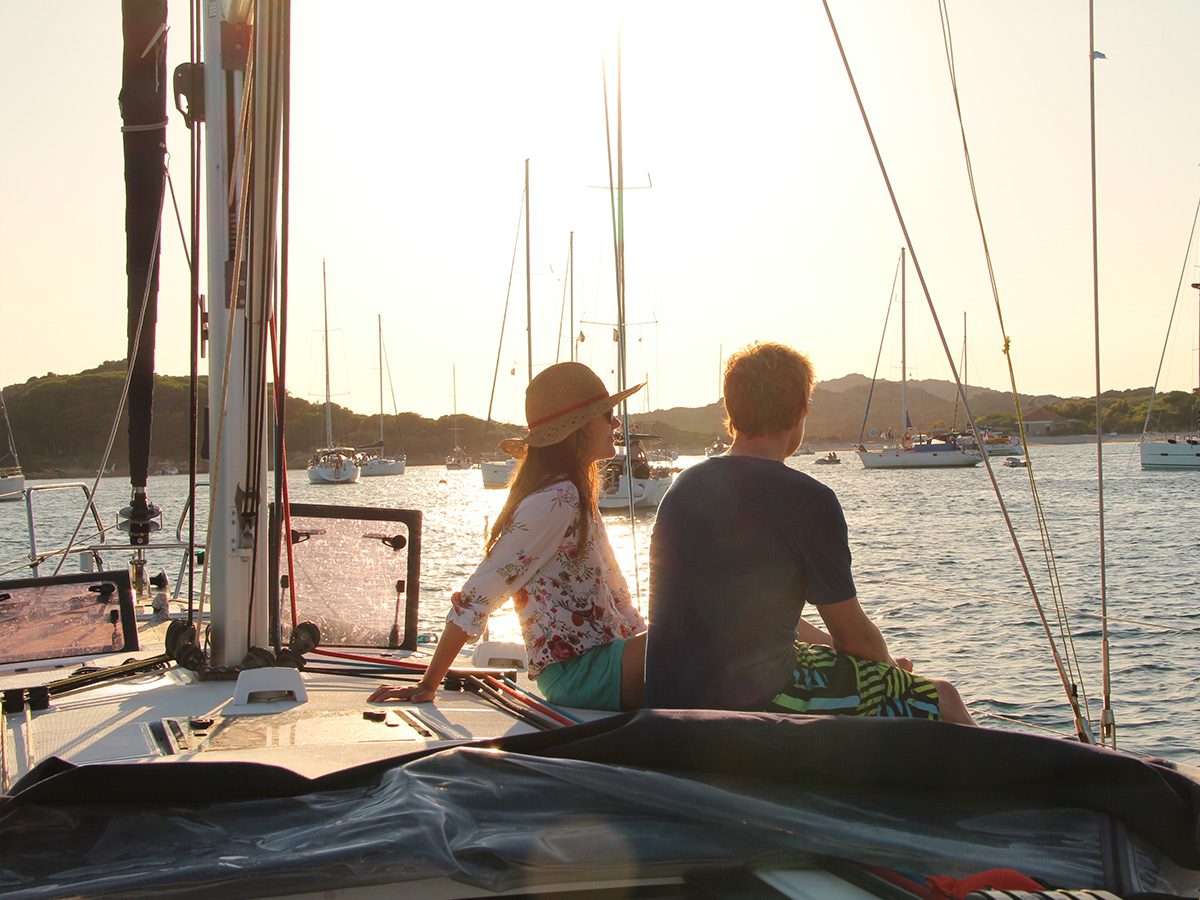 How do I define my budget? 
In addition to the boat rental, keep in mind that there will be additional costs. 
The main ones are transportation to the departure base (flights or other transport), refuelling, possibly the skipper, port/mooring fees, fuel...
Also remember to check the compulsory options that are sometimes added to the boat hire price: booking fees, boat cleaning (count between 100 and 250€ depending on the size of the boat), outboard motor for the dinghy, bedding, on-board consumables... All these "extras" are detailed in your GlobeSailor quotation - don't hesitate to discuss them with your GlobeSailor advisor.
What about insurance? 
In partnership with the specialist broker Ouest Assurances, we offer several options:
→ Cancellation Insurance - Pandemic risk included: in case of cancellation for professional or medical reasons (including a positive Covid-19 test), you are reimbursed up to a maximum of 12 people and 40,000€. The cost of this cover is 3.5% of the amount of your rental, all taxes included.
→ Repurchase of Excess: In the event of a marine event, your deposit can be cashed by the lessor. By subscribing to this insurance policy, you will be able to sail with peace of mind! It is necessary to count 4 to 5% of the amount of your rental depending on the sailing area. 
Furthermore, in this period of health crisis, many of our partner shipowners have agreed to apply more flexible cancellation and refund conditions! On the boat's sheet, a green mention indicates whether this rental benefits from these special conditions
2. Before departure 
Navigation 
Depending on your crew's capabilities, their sailing wishes and the places of interest you wish to visit during your stopovers, the skipper will be able to provide you a "typical" itinerary in advance with alternative options to adapt to the weather conditions.
Nautical charts of the sailing area are compulsory on board (check during the inventory), but they may be in the local language or damaged. So, remember to bring your own charts or download an electronic chart application. And for weather forecasts, we advise you to download the Windy application.
In high season, in the busiest basins, we advise you to book your berths in advance.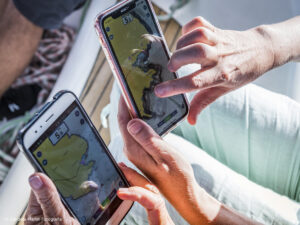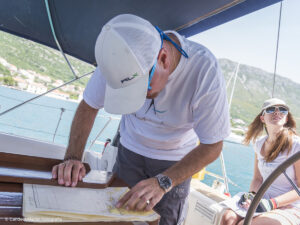 Administrative formalities 
Do not neglect the management of formalities. Passport, visa, coastal permit, VHF licence... Remember to check the necessary documents, depending on the destination. We also advise you to read your charter contract and to confirm with the base manager beforehand which options you would like (paddle, outboard engine, skipper, etc.). Also remember to print (and keep on board) and send the base the complete crew list and inform them of your arrival time. Especially if you need help with your transfer from the train station or airport to the base.
Money
Contact your bank to check your credit card payment limit. Indeed, the boat's deposit, if high, may block your card. You should also check the currency of the country you are travelling to and we advise you to bring some cash with you for harbour expenses and essential supplies.
Meals & Provisions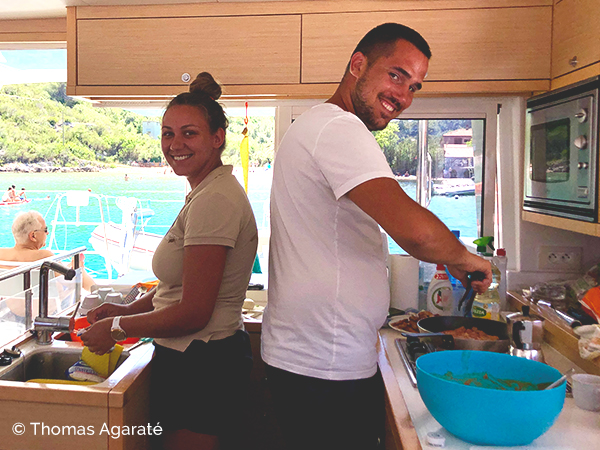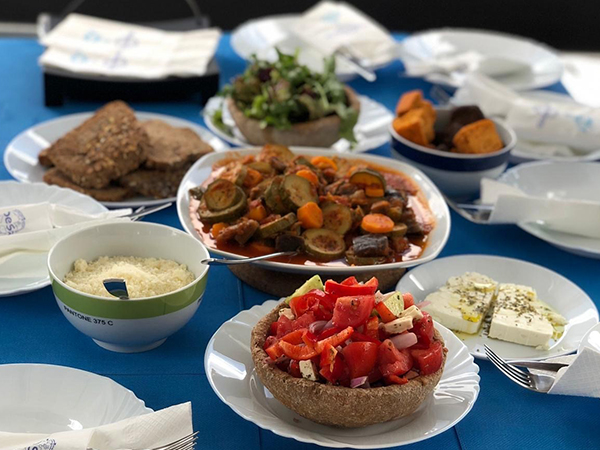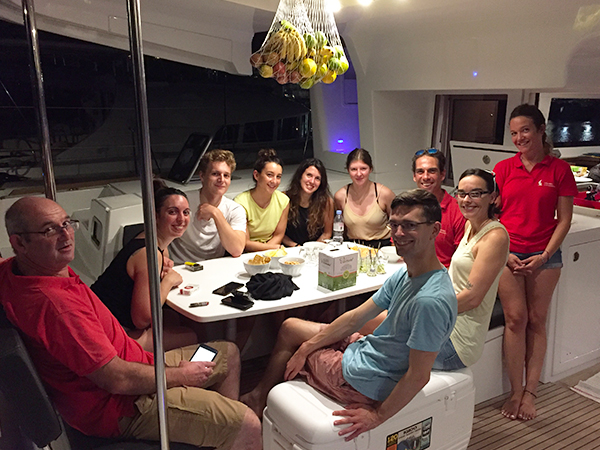 If you rent a sailboat without a crew, you will be responsible for the meals. It is best to plan menus for the duration of your cruise and to make a list of the necessary provisions. You will be able to buy additional groceries (fresh produce, fish, meat...), but if you are going to a remote archipelago, you probably will not find a shop. Some hirers can send you a list of supplies to complete. Don't hesitate to ask them for a list of shops near the port, especially those that deliver on board!
3. In your suitcase 
Last step before the big departure: your luggage!
Remember that space on board is limited. Even if you are boarding a large boat, remember to pack soft, easily foldable travel bags. A backpack will also be useful for your excursions ashore.
Don't forget your valid passport or identity card and airline tickets. 
As for boat hire, you will need to have with you the rental contract, the boat licence or skipper's pleasure craft licence and paper nautical charts/coastal guide or the navigation applications described above (Navionics, Windy, Navily).
Remember to bring sheets, towels and tea towels if they are not included in your rental contract or contact the base in advance to request them (optional).
Every skipper and sailor must bring basic equipment: weather watch jacket or windbreaker, gloves, cap, boat shoes, sunglasses, headlamp, storm lighter, small waterproof bag, waterproof smartphone pouch...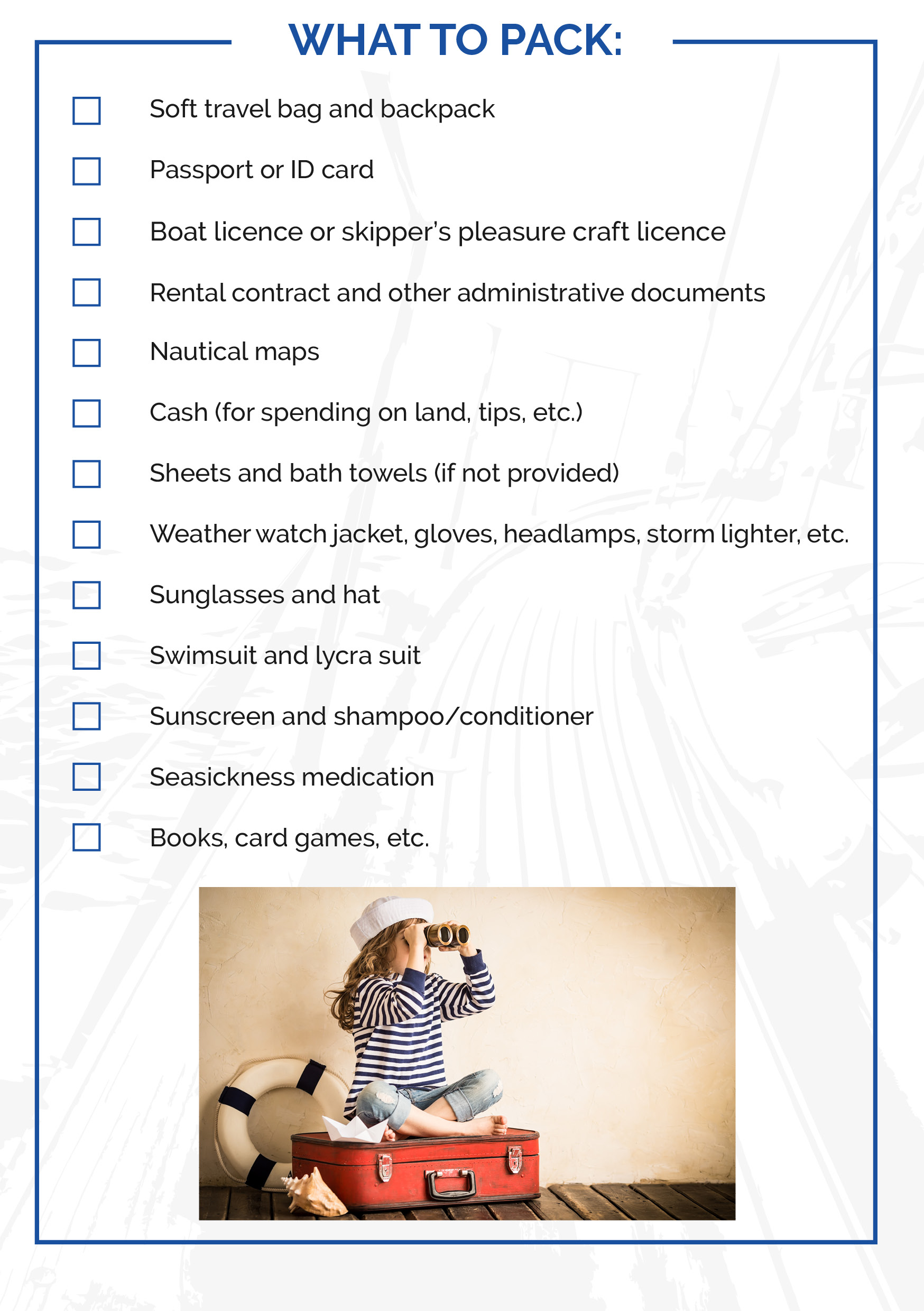 For clothing, please bring the necessary items according to your destination. For holidays in the sun, you will be mostly in swimsuits, sarongs and lycra suits during the day and in the evening, at anchor, a jumper will be appreciated! Don't forget sun cream and an after-sun care, an anti-mosquito spray or peppermint essential oil to soothe stings. For off-season sailing, you will need to cover up more (hat, fleece, overalls, tights, etc.). 
To immortalize your holidays, don't forget your smartphone, camera or waterproof camera that you can recharge on power sockets and USB ports. A nomadic battery can be useful for recharging your devices and saving energy on board. And for moments of relaxation while sailing, slip a good book or some light reading into your suitcase, and for aperitifs, a deck of cards will liven up your evenings! 
4. D-Day: arrival at the port 

When you arrive at the marina, go to the rental agency to meet the base manager and carry out the inventory before taking over the boat. We can only advise you to take the necessary time to do a complete inventory of the boat and its equipment. Make sure you check the safety items (waistcoats, foghorn, tool kit...) and the documents of the boat. Also check the operation of the toilets, as well as the battery level and condition of the engine. Outside the boat, don't forget to test the windlass, check the state of the sails and memorise the boats draught! Sign and keep a copy of the inventory on departure, which is very useful in the case of damage or dispute on return with the owner.
And the last piece of advice: remember to do a safety briefing with your crew before we weigh anchor and then test the boat (and your crew 😊) by making a few circles in the water before setting sail!