Cabin cruises are ideal for couples or families with 2 children. No need to know how to sail, the crew will take care of everything! 
But before the departure comes the preparation and with it, questions. After listing the golden rules to prepare for your boat rental, you will find all the practical information you need to make your cabin cruise a success in this article.  
Here, we answer your questions and the two most recurrent ones before boarding: 
Will I get seasick? 
Will I get along well with the other passengers? 
How can I fight against seasickness? 
When boarding, you may be lucky enough to discover that the sensation of rolling waves, sometimes felt depending on the sailing conditions, has no effect on you. You have a sailor's foot! For the others, it will take a few hours to get used to the rhythm of the boat and be at ease on board. Yes, this can include a "seasick" phase... Solutions exist to reduce the symptoms! 
Medication 
We advise you to take a medication like Mercalm, normally available in a self-service pharmacy, which helps fight against seasickness. There are also homeopathic solutions or solutions based on essential oils. Do not hesitate to ask your doctor for advice. Some motion sickness sufferers also recommend the use of an anti-seasickness bracelet when symptoms appear at sea, which works thanks to an acupuncture point on the wrist. 
The rules for comfortable sailing 
Don't be cold, hungry, scared or tired! 
The boats proposed for our cabin cruises are often catamarans over 45 feet, schooners or mini yachts. These vessels are spacious and very safe. In order not to feel seasick, we advise all our passengers to stay safe, dry and warm, and if possible, outside your cabin. It is important to stay well hydrated, to rest and to eat well. Also be aware that most cabin cruises are short (between 2 and 4 hours per day maximum). Except for cruises to the Grenadines where the crossing from Le Marin to the Grenadines is relatively long (about 10 hours, usually at night).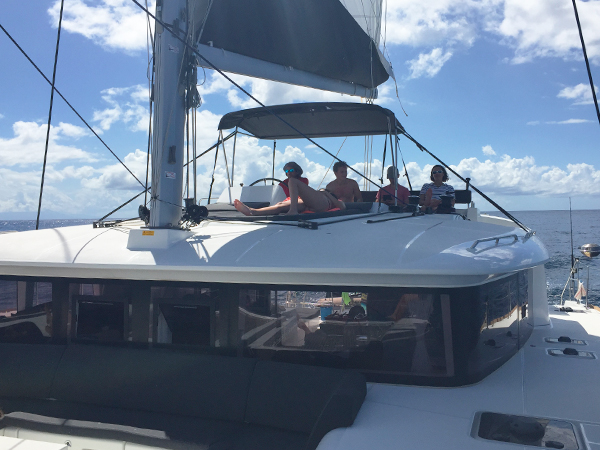 In any case, you should know that your crew is always looking after the health and comfort of the passengers. If you have any doubts or fears, your captain will be very good advice to reduce your nausea and help you make the most of your holiday on the water. 
How is community life on board the boat?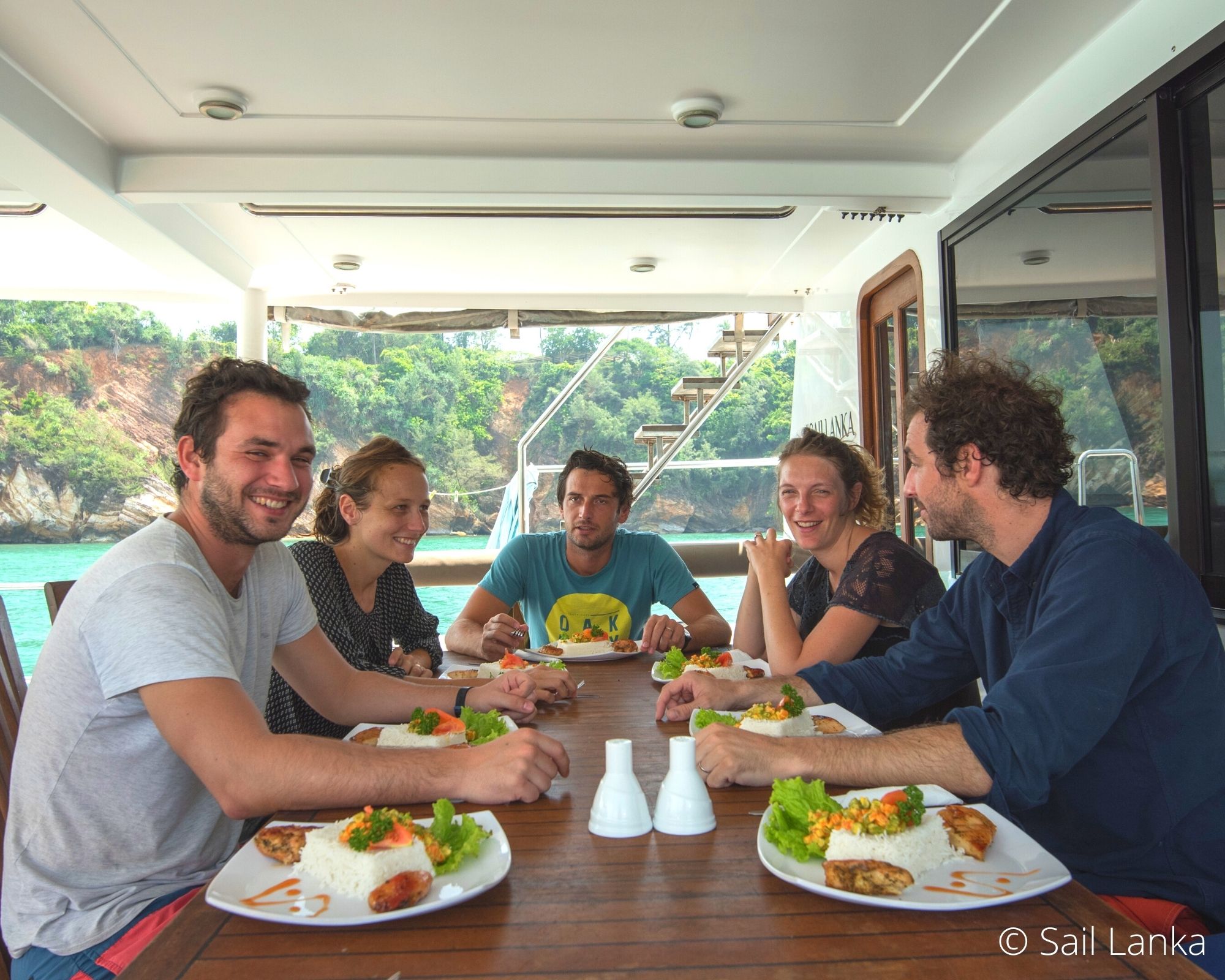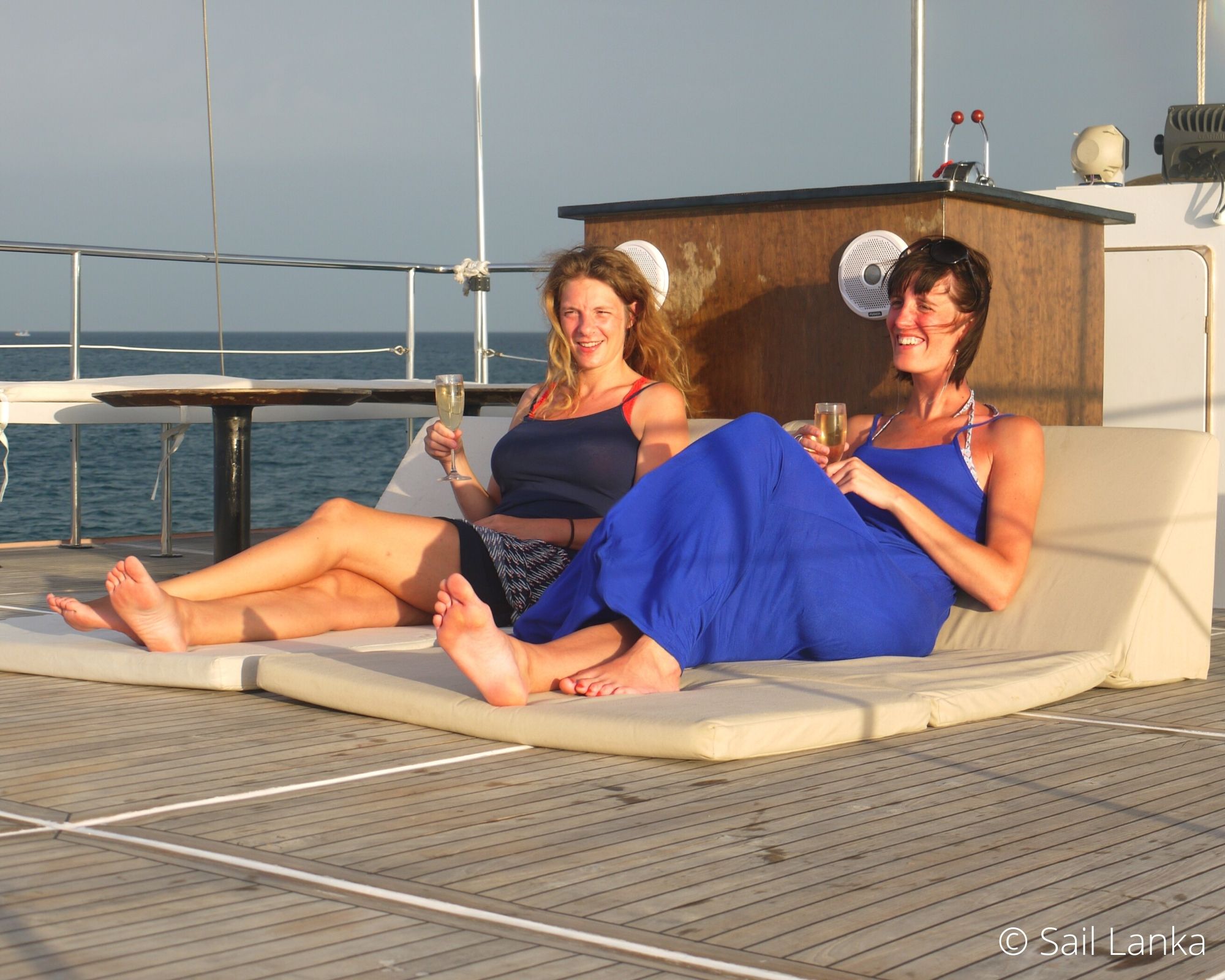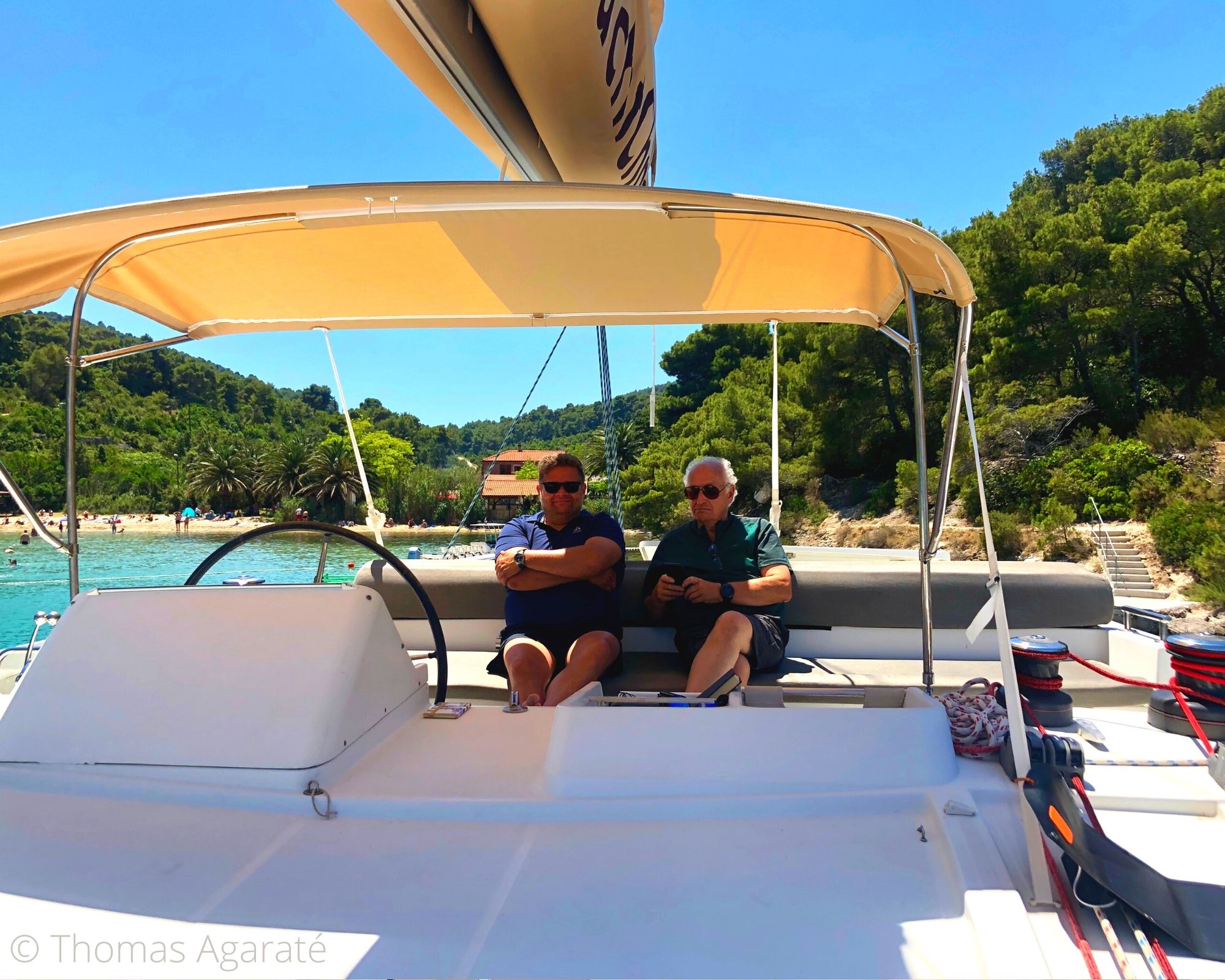 Most of our passengers return delighted from their cruise because... they made friends! Life at sea, the feeling of living unique moments, the sense of freedom and tranquility are all conducive to friendly, relaxed and sincere relationships. Embarking on a cabin cruise is synonymous with conviviality. Despite the current sanitary situation and the hygiene measures implemented on board the boats by the crew, nothing can take away from the moments of joy and sharing that can be experienced between crew members. Before booking your cruise, we can, if you wish, ask the shipowner to find out who the other passengers are (age, sex, nationality...). 
In addition, it is important to know that on board many of our cabin cruises, passengers have a cabin and a private bathroom. You therefore benefit from the privacy that is essential to the success of your stay. All the ships on offer are spacious and allow you to isolate yourself if you wish. A bit of reading on a sunbathing deck, playing in the saloon of the boat, paddling or snorkelling or walking ashore during stopovers... 
Our cabin cruises are the perfect compromise between sharing, relaxation and freedom!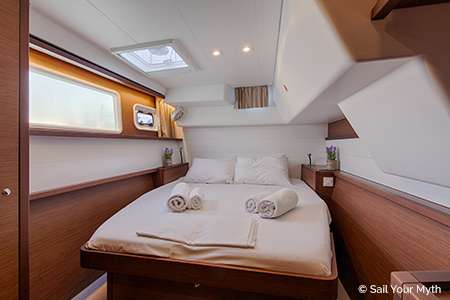 A few more tips to help you prepare

 for

 your cruise:

 

Which boat to choose? 
The boats offered by GlobeSailor are "small" units, either pleasure or man-sized, with a maximum of 25 passengers, except for a few exceptional yachts such as the Star Clippers, some yachts (20 to 50 passengers) or mini liners (up to 120 passengers). 
For a unique and more intimate sailing experience (12 passengers), we recommend that you choose a catamaran or schooner cruise. You will enjoy unique anchorages away from mass tourism and experience sailing completely in nature.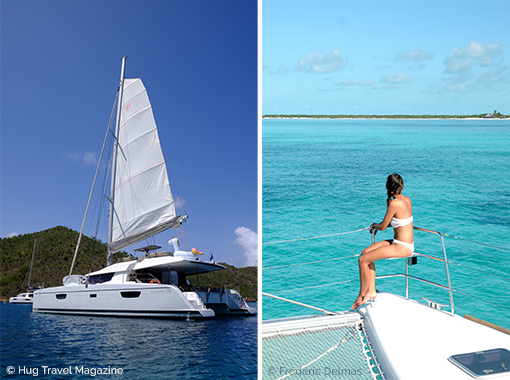 On these boats (Lagoon 620, Ipanema 58, Catlante 600, etc.), the crew is composed of a captain (skipper) and a hostess/cook and sometimes a sailor. 
It is also possible, for a lower budget, to board sailing boats with skipper only. You will participate a little more in the collective life and daily tasks (washing up, meals, etc.) but this type of dynamic and educational stay remains very competitive and above all extremely convivial! 
In your suitcase: 
Make sure you have a soft travel bag that is easy to stow in your cabin. Also remember to take a small, light backpack for your trips during land stops. Here is a non-exhaustive list of things to remember on a cruise: 
Your passport: for a stay abroad(also when leaving Martinique to sail in the Grenadines). On the administrative side, we can only advise you to look at the Ministry's website before your departure.
Your swimsuit, a towel and a lycra suit for snorkelling outings
Warm and waterproof clothing: at sea, even in exotic destinations, the nights can be cool
Comfortable walking shoes or trainers for stopovers and sandals or Crocs for on board the boat
Sunglasses and your favourite hat
A natural soap and shampoo
A high protection sunscreen without chemical filters and parabens
A book to devour while resting on the deck of the boat or the beach
Your snorkelling accessories if you have them
A little cash for your expenses on land, excursions and the crew's tip at the end of your cruise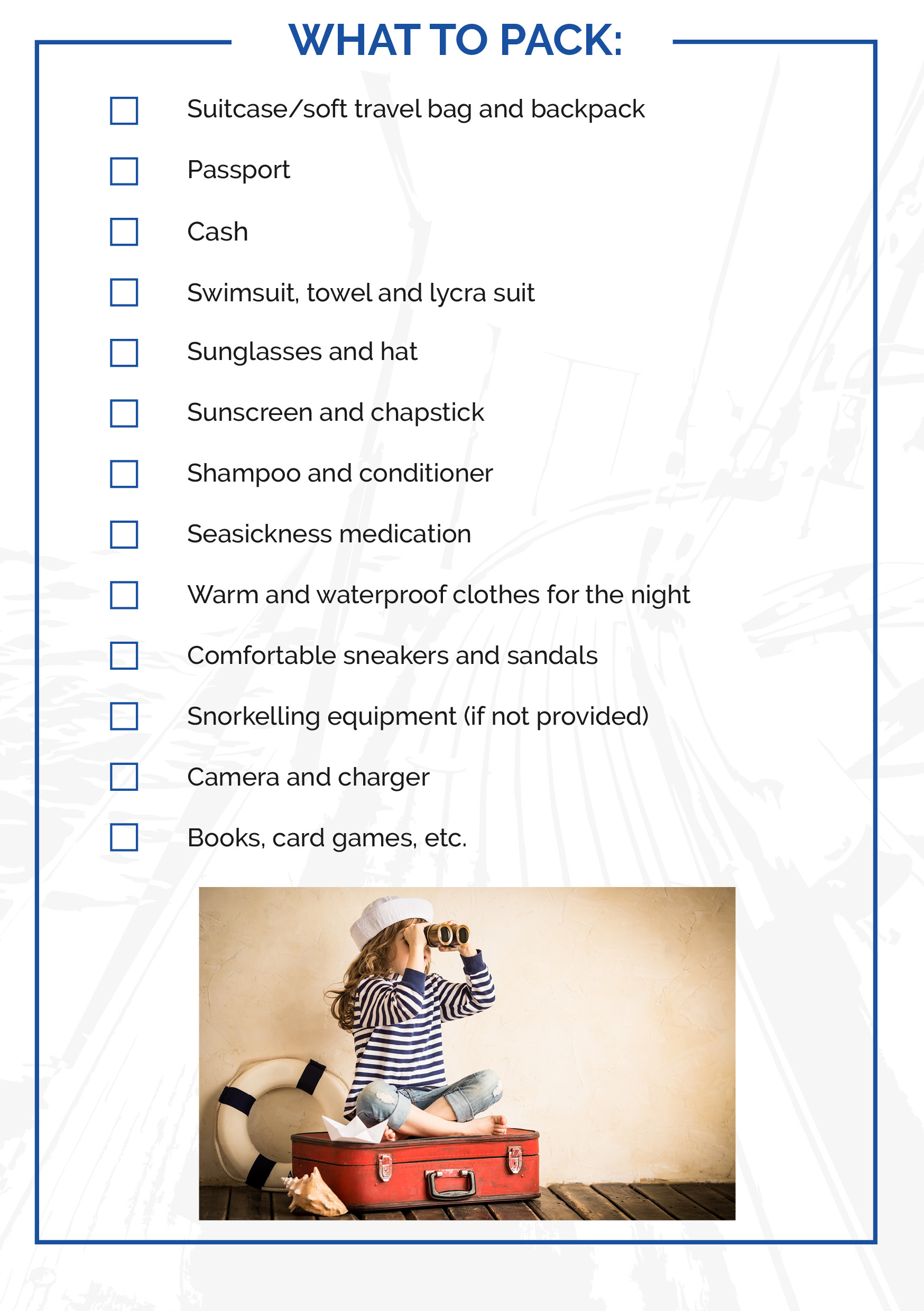 Finally, a few clever things to take on board: a waterproof protective cover for your phone, earplugs and a blackout night mask if you are a light sleeper, a deck of cards, a chess game or any other type of game that is easily transportable. 
What extra costs should I expect? 
On each cruise page you will always find a section with details of what is or is not included in the price. 

Please check with your GlobeSailor advisor at the time of booking to find out what is included in the cruise price and what is not. Usually cabin, meals (half or full board depending on the cruise), crew service are included. On some ships, it is generally necessary to add a "cash box" to be paid on the spot or with the balance of your reservation, to cover all the expenses of the boat during its navigation (fuel, water, harbour and mooring fees...). Most of the time, transfers to reach the boat from the station or airport are also at your expense, as well as flights or any other transport costs. Our travel agency will be able to take care of booking your plane tickets or hotel nights if necessary, before or after your cruise. In addition, you will also be responsible for any expenses on land or excursions during your stay.