True to the goal of offering sailors the maximum number of boats to rent in more destinations, GlobeSailor has signed a distribution agreement with Sunsail and The Moorings. This collaboration will allow GlobeSailor members to rent an additional 900 boats in 25 new destinations!
New boats and dynamic prices!
After Dream Yacht Charter, the iconic groups Sunsail and The Moorings have decided to be distributed on the GlobeSailor website. These heavyweight members of the nautical industry have pioneered and lead the concept of renting boats via the Internet and offer charters globally. Through the addition of these 900 boats, with just a few clicks, customers will be able to access over 13,000 boats (sailing and engine) in more than 180 locations around the world.
Soon you will be able to access these boats from our search engine. Instantly book online or consult one of our agency experts for schedules and prices. Please note that fleet prices of Sunsail and The Moorings vary daily according to the occupancy rate of each boat (yield management). Regularly check these dynamic rates to get the best price! Early booking and pre-season charters will undoubtedly allow you to rentals in the best conditions ...
The story of Sunsail & The Moorings

For 40 years, Sunsail & The Moorings have been a benchmark in the cruise and yacht charter industry. Their fleets consist of both sailing and power boats, including a catamaran line specifically designed for cruising, created with Robertson & Caine.  Most of their sailboats are from Jeanneau and Bénéteau shipyards. Additionally, they offer motor catamarans between 40 to 60 feet including highly respected brands such as Leopard Catamaran, from Robertson & Caine shipyard.
New Opportunities…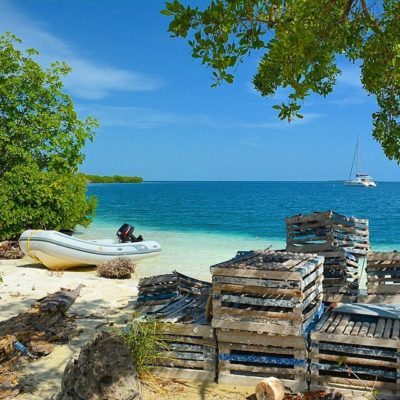 Present throughout the world, Sunsail and The Moorings offer high-end services, charters with or without crew, and bases from the Caribbean (Antigua, Belize, Grenada ...) to Asia, Polynesia, and of course the Mediterranean. Through this deal, boaters will have access to new benefits such as:
A new base in Placencia: GlobeSailor already offers cruises from San Pedro, north of Belize. However, sailors can now embark in Placencia, a small piece of paradise in the south of the country! Here they will be able to skim the countless creeks and lagoons still well preserved from mass tourism.
More boats in Antigua & Grenada: Antigua is one of the best kept secrets in the Caribbean. This paradise island is known for being a top pick for famous people who like to enjoy some R&R in privacy. So, keep mum that you may have chance to meet greats such as Lionel Messi strolling the beach! In Grenada, Globesailor will offer a vast number of boats to hire. Through this great selection, one if sure to find their dream charter, even if booked last minute!
Tonga: We present to you one of the easiest waters to sail in the entire South Pacific! Between island flea jumps and underwater hikes, GlobeSailor promises a memorable holiday with extraordinary beauty not seen anywhere else!
Vancouver: Discover the essence of Earth's nature in the realm of the maples through our exceptional new offers of yacht charters in Vancouver
Happy sailing everyone!