"One of the most fascinating islands in the world" - Colin Thubron

Let yourself be swept away by the beauty of Cyprus and follow us to one of the most fascinating islands in the world - we are pleased to offer you the opportunity for a unique journey on the yacht of your choice with our charter company in Cyprus now.
Whether you know it well or have just discovered it, whether beginner, advanced or professional, Cyprus is a true paradise for every sailing and yachting fan.  In this blog entry, we would like you to join us as we show you exactly what we mean. Be immersed in a unique and unparalleled culture. Cyprus has a lot to offer that you won't find anywhere else.
It all starts with Cyprus' geographical location: it is the most easterly and also the most southerly island in the Mediterranean - yet it is the intersection of ancient sea routes and three continents. In fact, it is here that the Orient and the Occident merge.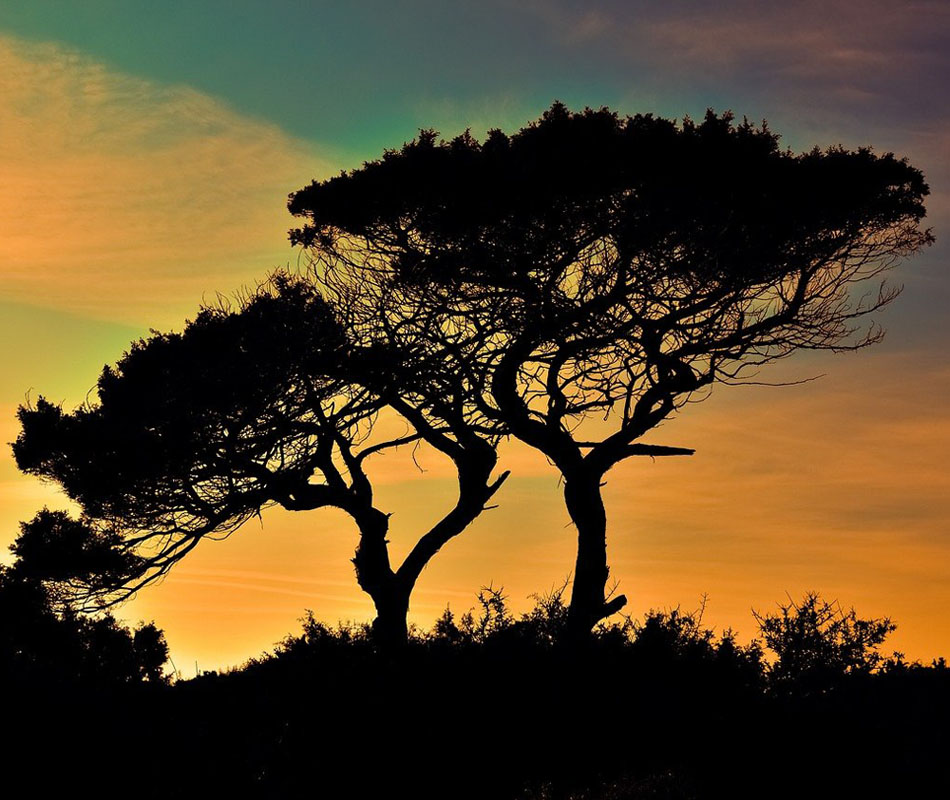 With numerous sandy beaches, small bays and a Mediterranean climate, the island impresses both in terms of landscape and sailing. During your trip, discover the most beautiful beaches of Cyprus, where you can often even anchor:
Nissi Beach
Nissi Beach is a jewel with its fine white sand and turquoise blue water, and water sports in particular are very popular here in summer. The perfect beach day: just leave your yacht at Agia Napa Marina and head to the beach in 10 minutes.
Makronissos
This sandy beach, situated in a bay, not only offers a beautiful view of the open sea and the surrounding landscape, but is also very close to a small archaeological site.
Fig Tree Bay
Fig Tree Bay's shallow waters make it ideal for families with children who can let off steam in the cool water. And there are plenty of water sports to enjoy here too - there's guaranteed to be something for everyone!
And especially for the more adventurous:
Kourion Beach
Although this is better reached on foot than by yacht, it is the perfect place for skydiving. It is also directly adjacent to a beautiful archaeological park where you can marvel at impressive ruins as well as breathtaking views over the rocky coastline. It is a good idea to anchor in Pissouri Bay for this excursion (see below for exact route suggestions) and drive.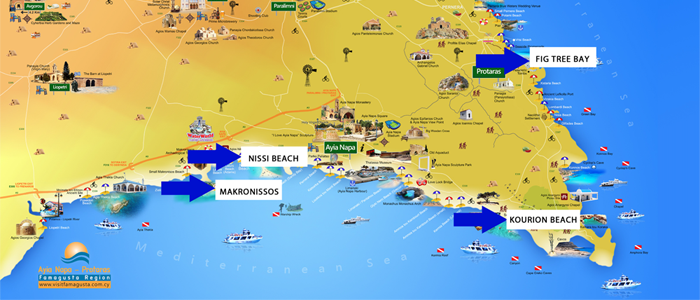 This leads us directly to another of Cyprus' treasures: a magnificent landscape in the interior of the country that is waiting to be discovered. The Troodos Mountains, for example, not only offer welcome relief on very hot days (temperatures here are often much lower than on the beaches), but also captivate with their numerous gorges and streams. About an hour's drive from the coast, you can stretch your legs on a hike here and either walk around Olympus, the highest mountain in Cyprus, or make a pilgrimage to the famous Kykkos monastery. Alternatively, you can ask our charter company for tips. Whatever you decide, unforgettable memories are guaranteed.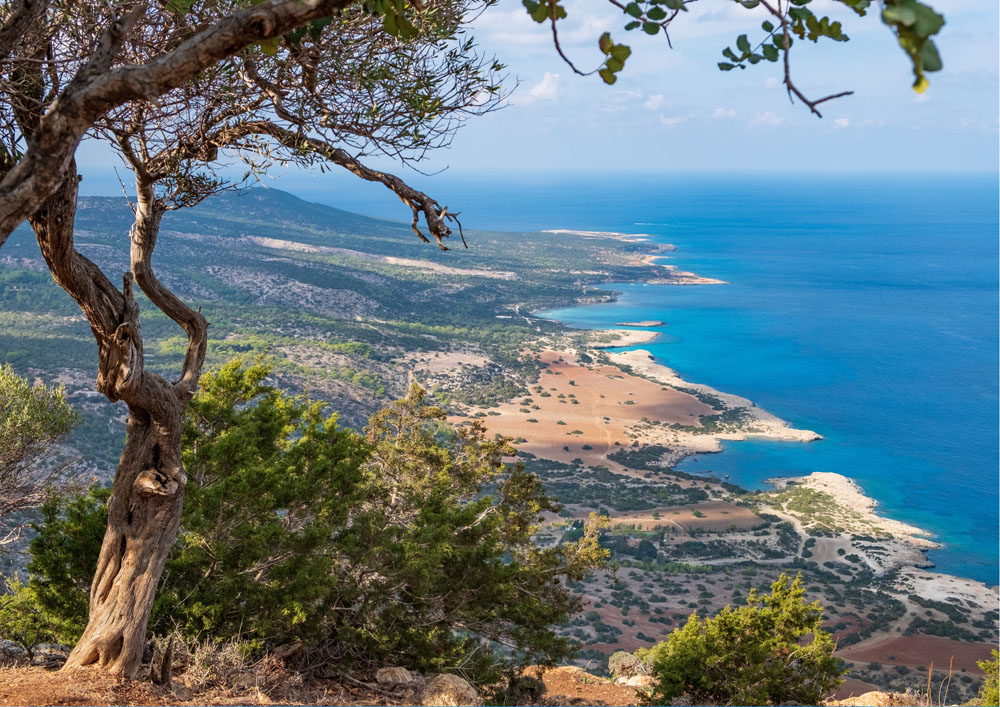 Akamas Peninsula
Another tranquil loop is in the west of Cyprus, near the Baths of Aphrodite. Just anchor in Latchi Marina and not far from the coast you can enjoy breathtaking views over Paphos Forest, the Akamas Peninsula and Polis Chrysochus. In addition, there is a botanical garden at the starting point of the walk, which is definitely worth a visit. The route is about 7.5km and you should allow 3 - 4 hours to complete it. And be sure to keep an eye out for the Cyprus Wheatear, a songbird unique to Cyprus.
In general, there are many beautiful walking trails with great views; especially if you stay in the Agia Napa area, Latchi Marina or Pissouri Bay. Just ask us or your charter company if you want more detailed information.
Sailing and Yachting Paradise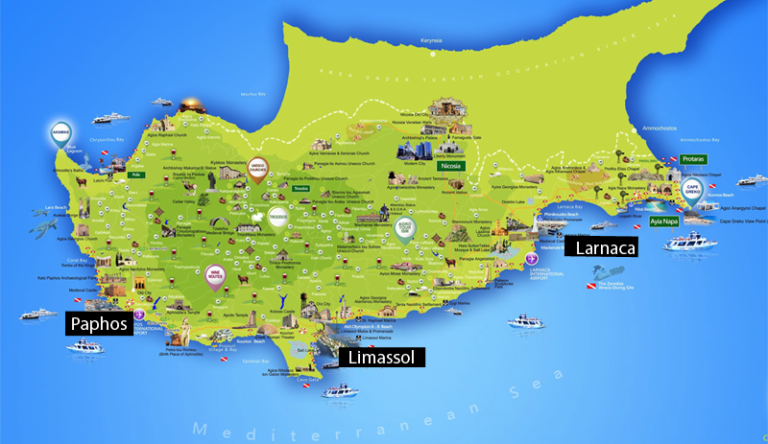 Cyprus is a year-round destination, which means that chartering is worthwhile at any time of year. In addition, all marinas are city marinas, so you can visit the city and its attractions from the jetty. Museums or national parks offer the perfect variety to your sailing trip. Benefit from one of the most enviable climates in the world on your yacht: in summer you can expect between 30 and 33 °C, while in winter there are pleasant 13 to 18 °C and around 340 days of sunshine a year. The tourist season starts in May and ends in October, but local sailors enjoy the weather all year round.
The wind in Cyprus depends on the seasons: westerly winds are dominant in summer and also very frequent in winter. In summer, the winds start in the south and then shift to the west in the afternoon, and you can expect winds between 15 and 25 knots. In winter, the winds are somewhat weaker, approximately between 10 and 20 knots.
Yacht Charter in Limassol
We are pleased to be able to offer you a yacht charter in Limassol! Limassol is located in the south-east of the island, and the Limassol Marina in particular boasts a host of advantages: its own spa, fitness and cultural facilities, a petrol station, Wi-Fi, parking, shower facilities and fresh water are just a few of them. Not far from the marina, you can explore the Limassol promenade Molos, visit the old town, or - as soon as it is possible again - stop at a bar. There is also a medieval castle, a water park not far away and various beaches. In short, Limassol is a wonderful place to live, "yacht", eat and shop.
Once you arrive in Limassol, you will of course want to see something of the island. For this, we recommend sailing either on the east coast or the west coast, as sailing is prohibited in the north. Here are two exemplary 7-day trips:
South-West Coast
1. Start in Limassol Marina – Check In
2. Limassol Marina -> Paphos Marina (43NM)
3. Paphos Marina -> Blue Lagoon (27NM)
4. Blue Lagoon -> Latchi harbour (5NM)
5. Latchi Harbour -> Pissouri Bay (39NM)
6. Pissouri Bay -> Lady's Mile -> Limassol Marina (25NM)
7. Limassol Marina -> Check-out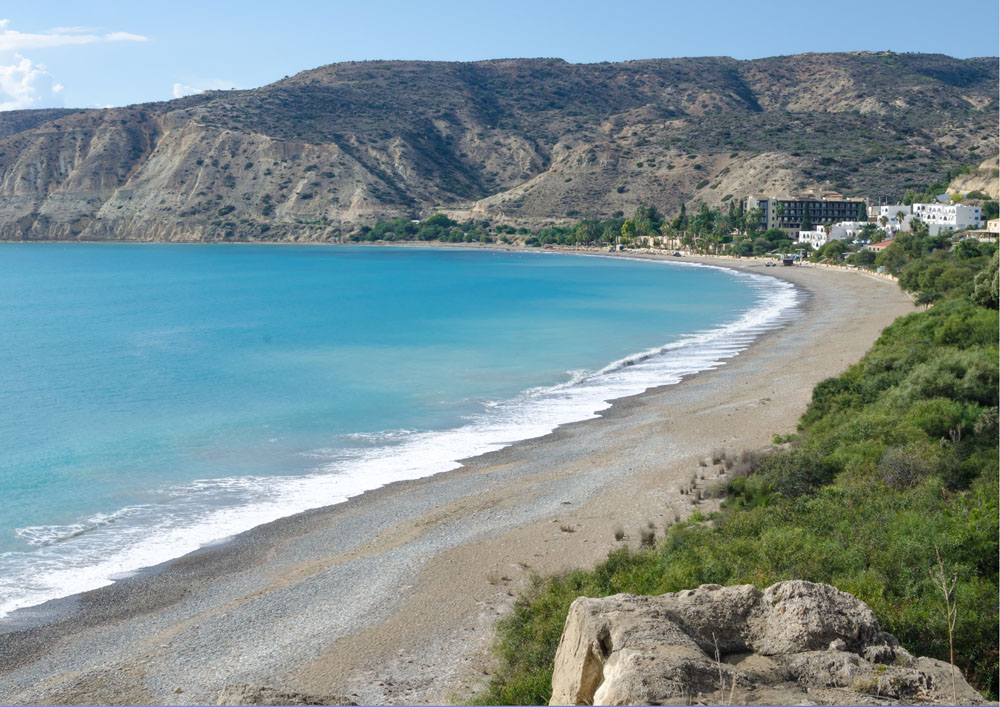 Take a Dip: The south coast of Cyprus features a long coastline of sandy beaches. There are many shipwrecks and sea caves in this area, making it very attractive for diving and snorkelling.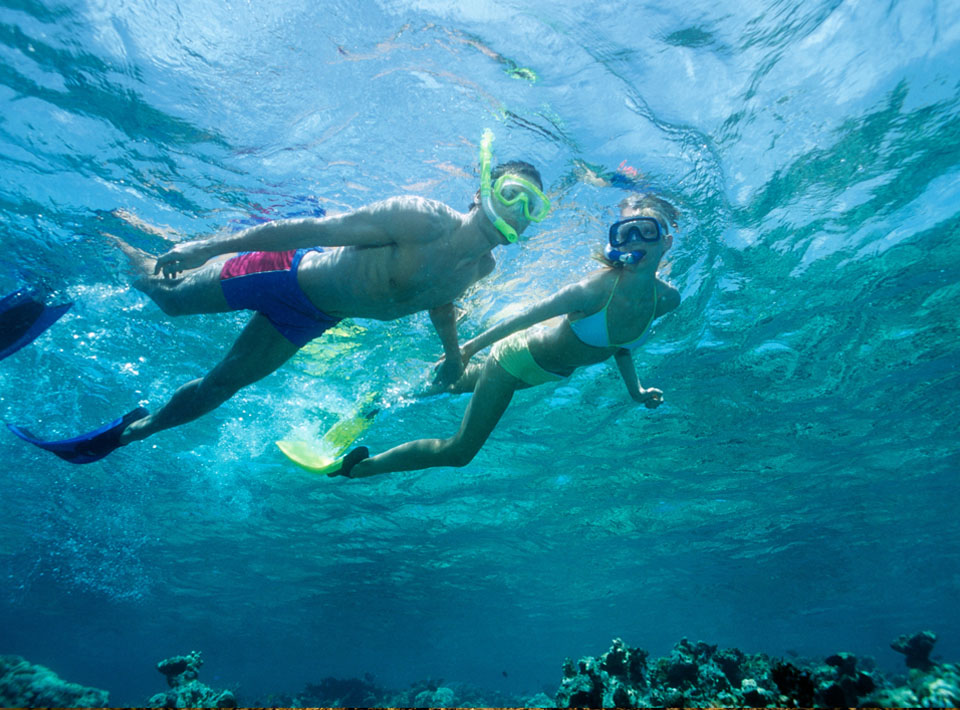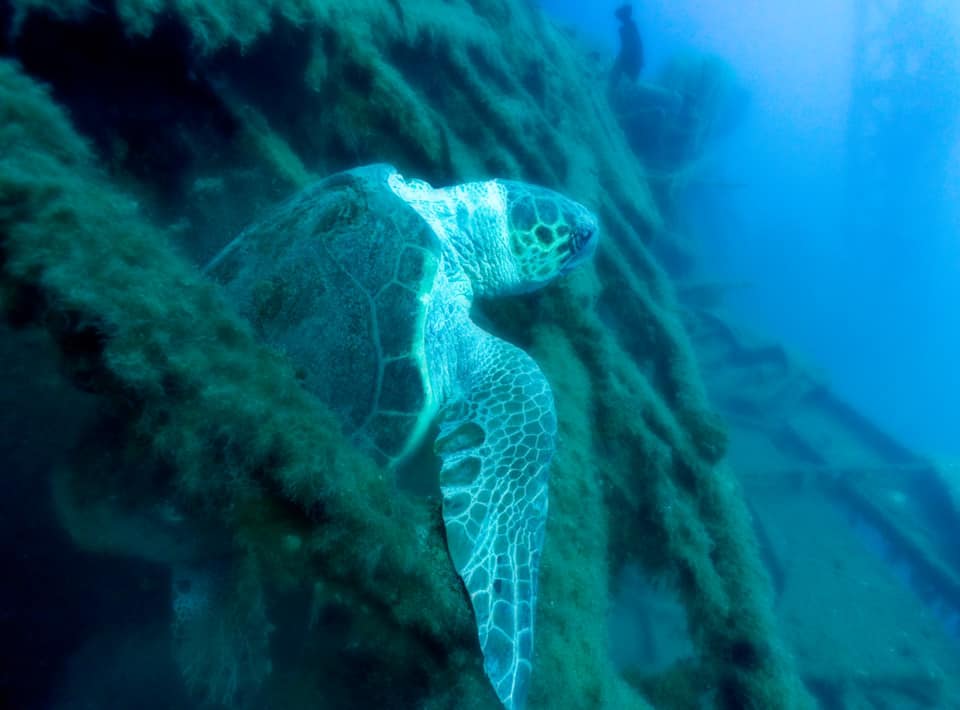 Equally intriguing on this route are excursions to the archaeological wonders of Kurions, hikes in Akamas National Park near Latchi or explorations of the royal tombs of Nea Paphos.
If you want to sail away from here: the ports that are particularly adapted for all weather conditions are Limassol Marina, St Raphael Marina, Zygi Marina and Larnaca Marina. There are also many flexible berths where you can anchor well in appropriate weather conditions: Limassol Anchorage, Governor's Beach, Meneou Beach and Larnaca Anchorage.
If you have a little less time, we can also recommend the following routes:
Limassol Marina - Pissuri bay (22nm) - Limassol Marina
Limassol Marina - Ladies' Mile (3nm) - Limassol Marina
Limassol Marina - Governors' Beach (13nm) - Zygi (18nm) - Limassol Marina
Limassol Marina - Larnaca Marina (38nm)
If you prefer to travel east, we can recommend the following 7-day tour:
1. Start in Limassol Marina – Check in
2. Limassol Marina -> Zygi Marina à Larnaca Marina (37NM)
3. Larnaca Marina -> Cape Greco (24NM)
4. Cape Greco -> Ayia Napa Marina (9NM)
5. Ayia Napa Marina -> Cape Kiti (20NM)
6. Cape Kiti -> Limassol Marina (29NM)
7. Limassol Marina – Check out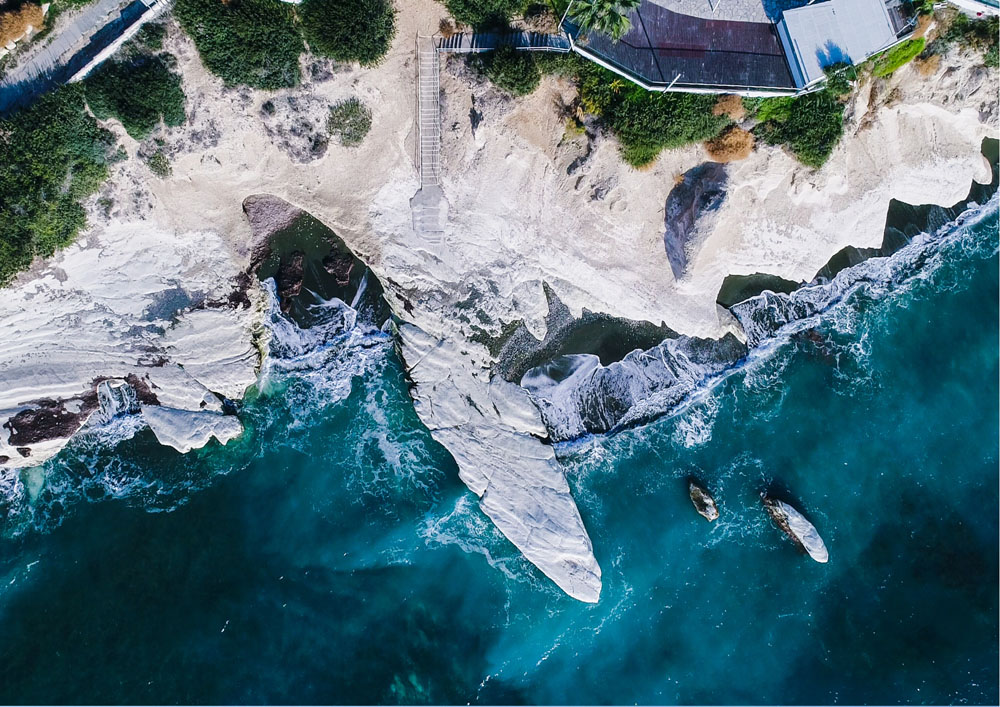 Governor's Beach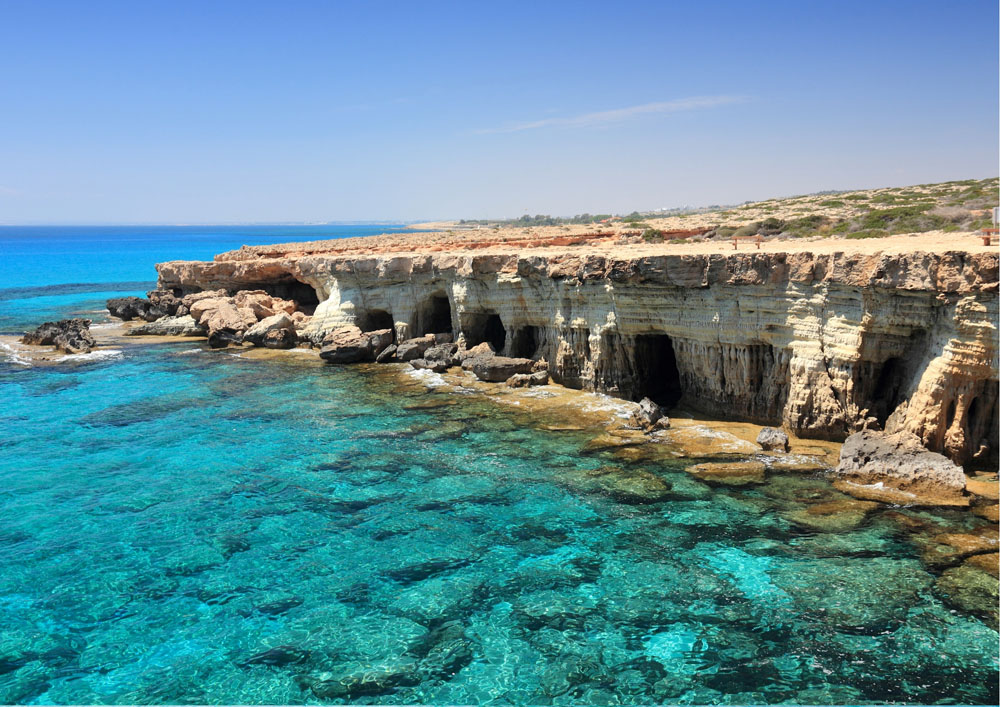 Cape Greko
To travel to Cyprus and start your yacht charter holiday, the best way is by air. There are two airports in Cyprus that are easy to reach: Larnaca International Airport is more to the west, and Paphos International Airport is further south. Both are about 60km from our charter company in Limassol and can be easily reached by bus, car or taxi. Direct flights are available from as little as €113 from Berlin, Frankfurt am Main, Cologne, Hamburg or Munich to Larnaca airport. To book your transport from Larnaca to Limassol, you can either use this website or simply request the airport transfer through our charter company.
It should be noted that Cyprus consists of a Greek-speaking and a Turkish-speaking ethnic group and tensions arise from this. For example, the north of Cyprus is occupied by Turkish forces and although many years have now passed and good economic and social contacts have been established between the two areas, we recommend avoiding northern Cyprus when travelling. However, this will be absolutely no problem for you if you stay in southern Cypriot waters - there is enough to experience here anyway that you won't need to go further afield.

Well, wanderlust sparked? Cyprus welcomes you with open arms (and seas)!