Holidays on the water don't necessarily have to mean the big ocean - wonderful memories can also be made on inland waters. Since renting a houseboat is particularly ideal for this, we are now very pleased to be able to offer you this experience.
Whether as a family, a trip with friends or a romantic getaway for two: houseboating is a unique experience. Follow us on the most beautiful routes along European rivers. And the best thing is: you don't even need a driving licence!


What exactly is a houseboat?
Most of you probably already know, but for those who are brand new to the field, let us briefly explain what a houseboat is all about:
Chartering a houseboat does not, as the name suggests, mean renting a complete house on a boat - but it comes very close. Rather, it is a motorboat that you can use as a combined means of living and transport during your holiday: On board are all the essential things you need to live, with more or less luxury as you wish. It is very comparable to a camper van, only on the water - during your holiday you sleep here, and you can cruise wonderfully from sight to sight.
What kind of houseboats are there?
In essence, the equipment can differ from houseboat to houseboat. Our charter companies have offers for up to 14 people on one boat. There are also some with a sunroof, an upper deck or a second steering position.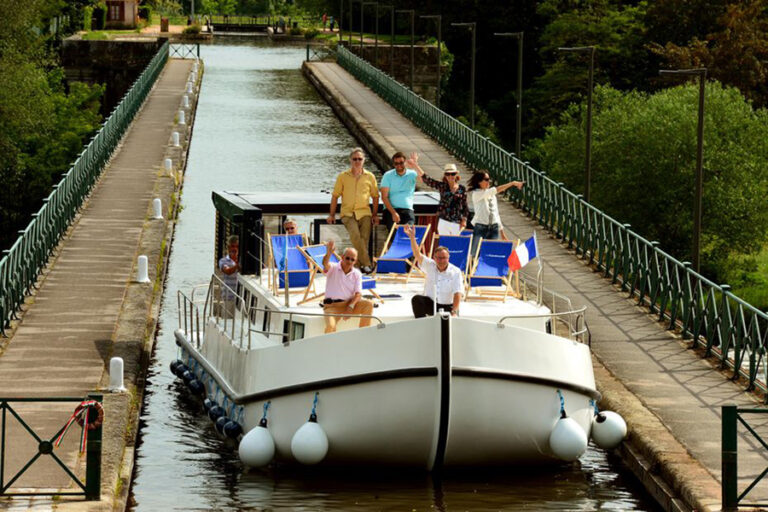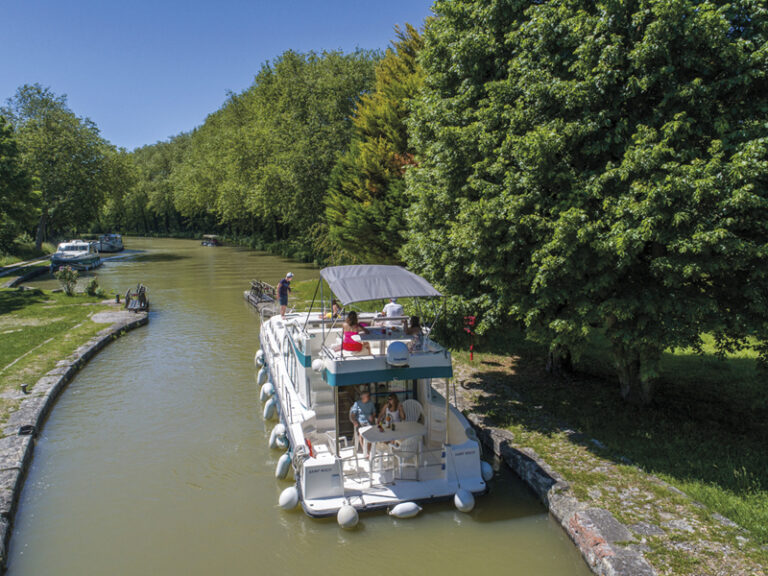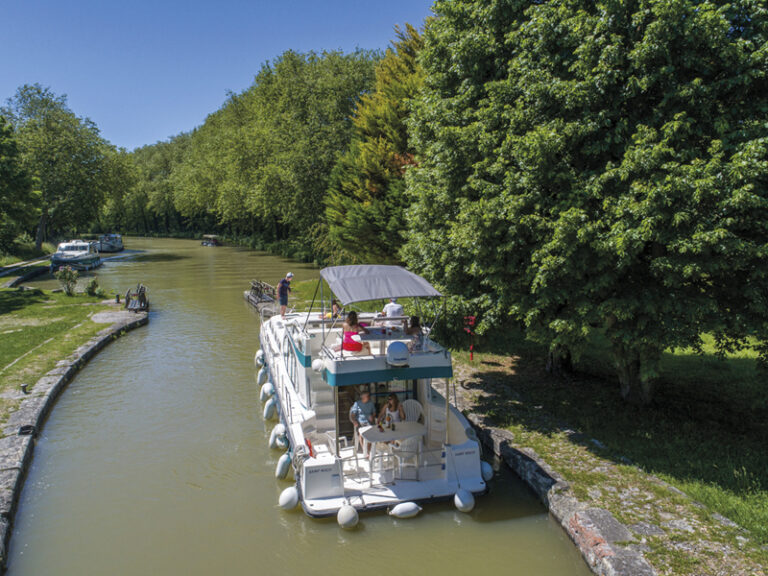 An important consideration for you when renting a boat is certainly comfort. With our charter companies, you can choose exactly what suits your holiday needs. For example, if it's your first time on the water, a smaller boat that's easy to handle is a good choice. Ideal for families, some boats also have a terrace at the back for relaxing.
Or if you want more privacy, you can choose one with a private bathroom in each cabin. And for those who want to take in the experience from all sides, there are boats with an outside deck at the front and back.
If that is not enough, there is a selection of luxurious houseboats to choose from. Here, for example, you have two televisions on board, two steering positions, plenty of space in the front cabin and a bow steel rudder. Up to 4 cabins with 4 bathrooms, an indoor and outdoor helm seat, air conditioning, outdoor kitchen and dining table and many other details are possible here.
For those who like to go on holiday on the water and at the same time want to protect the environment, there are now also "green" offers: Either as a hybrid solution or even completely with an electric engine. Our charter companies offer the possibility of cruising the rivers (almost) without fossil fuels. This is not only more environmentally friendly, but also quieter: enjoy the sounds of nature even at full speed! Charging the battery is very easy and usually only takes about 2 hours.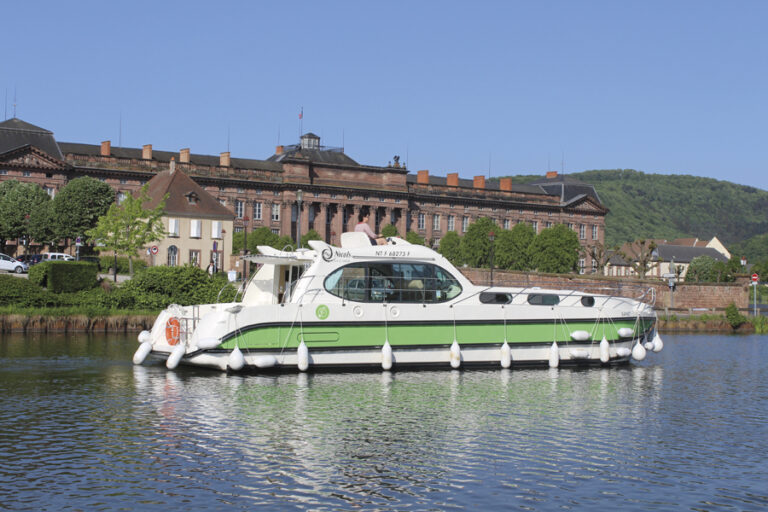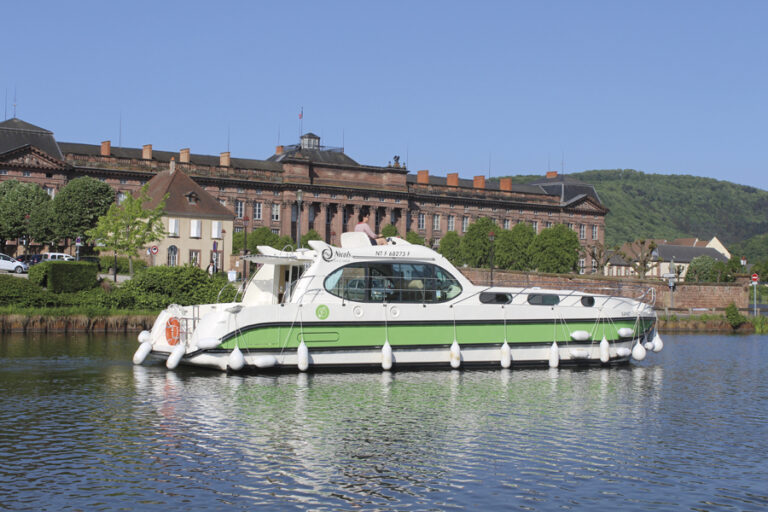 What is there to consider when renting a houseboat?
Hiring a houseboat is often easier than you might think - you often don't even need a driving licence! Only a few conditions have to be met. For example, the boat must not be longer than 15m. Furthermore, additional regulations apply in the different countries, such as that in Germany all persons must wear a life jacket during the trip. Since this can vary depending on the destination and the target route, it is best to find out more directly from your rental company before the trip.
It is very important to note that although the steering wheel and the wheel look similar, a car licence will not be of much help on the water. The boat reacts quite differently to your movements than a motor vehicle, and traffic on the water also works differently. Therefore, you will receive a detailed briefing before your first trip so that you can enjoy your holiday afterwards without any unwanted interruptions. Don't worry - you'll learn to manoeuvre very quickly!
Booking is as simple as can be: simply search for your desired destination on our site, filter according to personal criteria, and select the suitable boat. You can always clarify all further details with one of our employees. And with the transfer of the deposit, your houseboat is already rented!
Good news for pet lovers: taking one or two pets with you is usually possible! For a small surcharge, your four-legged family member can easily come along on holiday. In addition, bicycles and other similar additional equipment can often be booked, or you can take them directly yourself.
Or try something completely new and attach a mini-pool to your houseboat! Enjoy the cool water in a flexible way without having to moor anywhere. This option is especially suitable for families, as the mini-pool is a safe bathing opportunity for small children.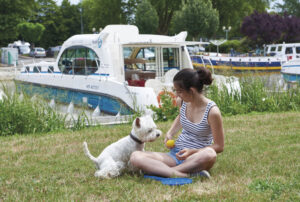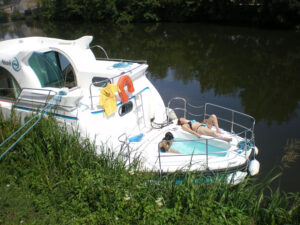 If you are travelling on a houseboat for several days and would like to moor in a harbour at night, you have to expect mooring fees of approx. 1-2€ per metre of boat length. In some countries, such as Holland, the moorings are even free of charge.
It is often possible to additionally rent a parking space at the charter station in order to leave your car there for the duration of the holiday. This allows you a relaxed, unproblematic arrival and departure.
In order for your trip to run smoothly, you will need to pay a deposit to the landlord. This is usually between 1000€ and 2000€.



What does an ideal holiday on a houseboat look like?
It's up to you! France, the Netherlands, Germany, Italy? Travel wherever you wish, whether for a nice weekend or your two-week summer holiday.
For example, take your family to the north-west of the Netherlands, to beautiful Friesland, to Drachten. Here you are spoilt for choice between different routes - there is certainly something for everyone!
For rather short stays of approx. 2 days, a "beach tour" is a good option here:
Drachten - Opeinde - Burgum - Eernewoude - De Veenhoop - Drachten
Start your houseboat holiday from Drachten and sail along the Opeinder Canal over the lake "De Leien" to the "Burgumer Mar" and enjoy a relaxing break at the "Bergumer Strandje". Afterwards, you can weigh anchor and follow the Grinzer Feart towards the southwest.
Make another stopover in Eernewoude - besides the swimming beach, it is especially worthwhile to visit the It Wiid recreational park or the de Alde Feanen national park.
Then continue with a detour in Hânsmar, where you will also find a mooring, via Grutte Krite and past the Marekrite mooring. Choose for yourself where you prefer to spend the night! Afterwards, you will cross the Wijde Ee and pass the swimming beach "Smalle Ee". Take advantage of this last stop for a cool refreshment before heading back towards Drachten.
The total duration of the route depends on the circumstances, but you can assume a pure driving time of about 4 hours. That leaves enough time to explore the surroundings extensively. The people here are also known for their hospitality, so don't be afraid to ask local residents for the best restaurant, for example!
The great advantages of a holiday on a houseboat summarised:
You often don't need a driving licence
A completely new way to explore the landscape
Without a skipper and crew, you have the boat all to yourself
Pets and bicycles on board are no problem
Moorings are often in central locations
You have complete control over the course of your holiday
Storms affect you less than on the high seas
Renting a houseboat is quick and easy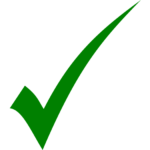 "To be out in the open at night, under the silent sky, by a still-flowing body of water, that is always mysterious and stirs the reasons of the soul" - Hermann Hesse