So, you're starting the planning process of your next nautical adventure. You have an idea of where you would like to go and how much you would like to spend. But you don't have a personal yacht docked behind your house or have little sailing expertise. Don't fret, GlobeSailor is here to help. We know what you're thinking… "An online agency really? Are they legit? This could possibly be a scam." We get it, sometimes it's hard to fully trust an online company or know which one is best for you. Let's talk about some concrete facts and summarize Globesailor reviews to show why GS is one of Europe's leading and most reliable yacht charter agencies.
10 Years of Experience
Established in 2008, GlobeSailor has over ten years of experience within the yacht charter agency industry and has built a reputable reputation. Over the course of these years we have learned the ins and outs of the market and how to provide customers with the perfect experience. We have also had time to make A LOT of friends in the industry around the world. Through this network and partnerships, we have the ability to offer top quality boats at the best prices!
Here at GS, sailing is our second language (we also speak FR, RU, PL, DE, IT, ES, HR!) Each of our dedicated advisors are experts in all things nautical related.  Within 24 hours of the initial request (normally within an hour), customers will receive a personalized quote. Want to know the difference between a Oceanis 411 and Bavaria 44? Not sure if a skipper is included in the price? Ask as many questions as you need, our team wants to meet all your needs and wants that are feasible. With the help of our team, your holiday will be nothing but smooth sailing!
Just as our customers don't agree to work with any random company they find, neither do we. Globesailor reviews and thoroughly checks each and every company we partner with to make sure they reach our high standards. GS only works with the best professional yacht charter companies. We require that these companies meet all our customer service, maintenance, quality, and safety requirements. Furthermore, members of the Globesailor team travel to partner bases yearly to ensure the maintenance of the boats and infrastructure are of high quality. We value the service of our partners and elect the charter company of the year…
Large Selection, Low Prices
Browse the GS website and find over 10,000 yacht, sailboats, and catamarans to choose from. Let your wildest nautical dreams come true and pick from over 150 destinations for your next charter holiday. Cruise the Mediterranean Sea in Croatia or set sail in Thailand, GlobeSailor offers charters all over the world. Now let's talk about prices …. Some people think that a yacht charter is only for the rich and famous! FALSE. GlobeSailor offers boat rentals to accommodate all budgets, high and low. Tip: Continuously check our website throughout the year or signup for our newsletter, you will find some awesome deals that you won't be able to resist.
Truly Transparent
GlobeSailor wants to be as transparent as possible and encourage our customers to post reviews after their experiences. We welcome both positive and negative (hey we never said we were perfect!) feedback. These Globesailor reviews help us better understand what works or how we can improve. They also serve as a great source for future clients, here you find out more about specific boats or destination from an outsider's view.
In the Press
People are talking about GlobeSailor and for all good reasons. Our company has been mentioned on reputable websites and in magazines all over the world! Find us in in Sailing Today, Voile Magazine, and even Forbes! Check out what people are saying here.
Come Meet Us!
GlobeSailor is always eager to meet its loyal customers and give more information to new ones! As active members of the industry we exhibit and visit boat shows across Europe.  Come join us to meet our team & learn more. We are present at many events including:
Southampton Boat Show: September 14th – 23rd 2018 (Booth J025)
Paris Boat Show: December 8th – 16th 2018
Poland Boat Show Lodz: November 9th – 11th 2018
Düsseldorf Boat Show: January 19th -  27th 2019
Vela Festival: May 4th – 7th 2018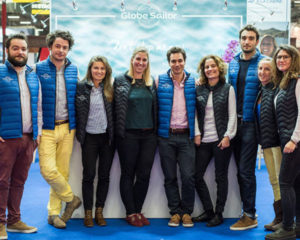 I hope this summary of GlobeSailor reviews was helpful! Now that you have all the facts, the next time you're daydreaming of a holiday at sea, remember: GlobeSailor is only a call or click away!