The leader in online yacht charters announced the launch of an exciting competition during the Paris Boat Show last December: "Win a lifetime of sailing holidays with GlobeSailor". The premise is simple: the winner would be offered a cabin cruise or a yacht charter worth €3,000, every year for the rest of their life! While surfing the web looking for a cruise in Greece, Fabienne discovered the contest on Instagram and clicked to participate. A few weeks later, she received an email that would completely shake up her plans. She was the big winner! We went and met this passionate woman who has joined the GlobeSailor community. Marine, Head of Media and Communication, and Olivier, GlobeSailor's General Manager, chatted with her.
Fabienne becomes a GlobeSailor ambassador
The very pleasant and open 58-year old answered questions for Marine and Olivier who wanted to learn a little more about the lucky winner.
A lover of the sea
Fabienne has been in charge of human resources in the fire department for over 20 years. She is married, with a 28-year-old daughter who works in the maritime industry. "My daughter sailed for 18 months on the Club Med II and will soon embark on the Ponant. It is thanks to her that I got to know this environment and that I discovered cruising. I was lucky enough to accompany her to the Bahamas and the Mediterranean on this magnificent boat." Based in the south of France, in the Occitanie region near Nîmes, Fabienne is happy to live 35 minutes from the sea. "Living near the ocean is important to me. I go on vacation by the water, and revolve around the water."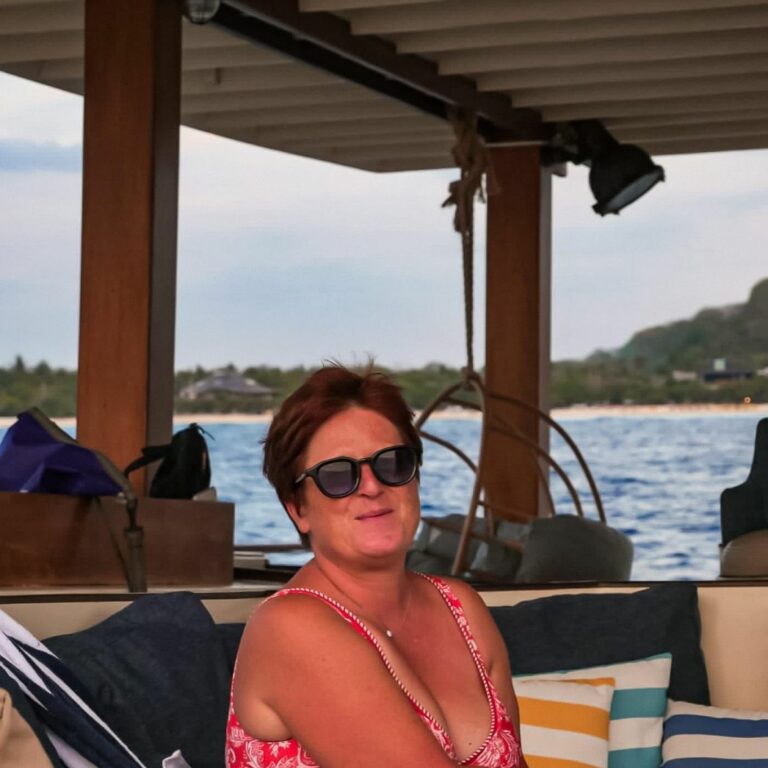 ---
A passionate team member
Passionate about travel and gastronomy, Fabienne never misses an opportunity to share her culinary discoveries with her friends and family, as she did recently when she returned from Indonesia. "I love exotic cuisine. Every time I come back from vacation, I host tasting parties with my friends to let them sample the traditional dishes. I always bring back spices and other special delicacies."
Her favorite dish: couscous.
One of her specialties: rougaille, a recipe learned with a Malagasy.
This taste exchange awakens Olivier's taste buds. Fabienne offers to meet Olivier again to cook a good meal for him. We're sure she will be an outstanding crew member during a GlobeSailor cabin cruise and will be able to take inspiration from GlobeSailor's good advice for eating well on board:
5 easy recipes to cook on board your boat
When it comes to reading, Fabienne adores thrillers. She is particularly fond of Valérie Perrin, a French novelist known for writing romance thrillers.
---
A sportswoman with an eye for the sea
Fabienne also likes sports. She is passionate about hiking, paddleboarding, canoeing and water activities in general. "I love the water", she says with a smile that speaks volumes. Her cruises aboard Club Med II piqued her curiosity for sailing. On vacation in Indonesia or Guadeloupe, she enjoys discovering the surroundings on day trips by catamaran. When she goes to Corsica each year, she rents a motor boat with her friends. Before winning the competition, she dreamed of a trip to Greece or the Grenadines. Thanks to GlobeSailor, Fabienne will soon have the chance to enjoy themed cruises and combine sailing and activities with packages such as the "Culinary discoveries in Croatia" or a "Greek Wellness Cruise".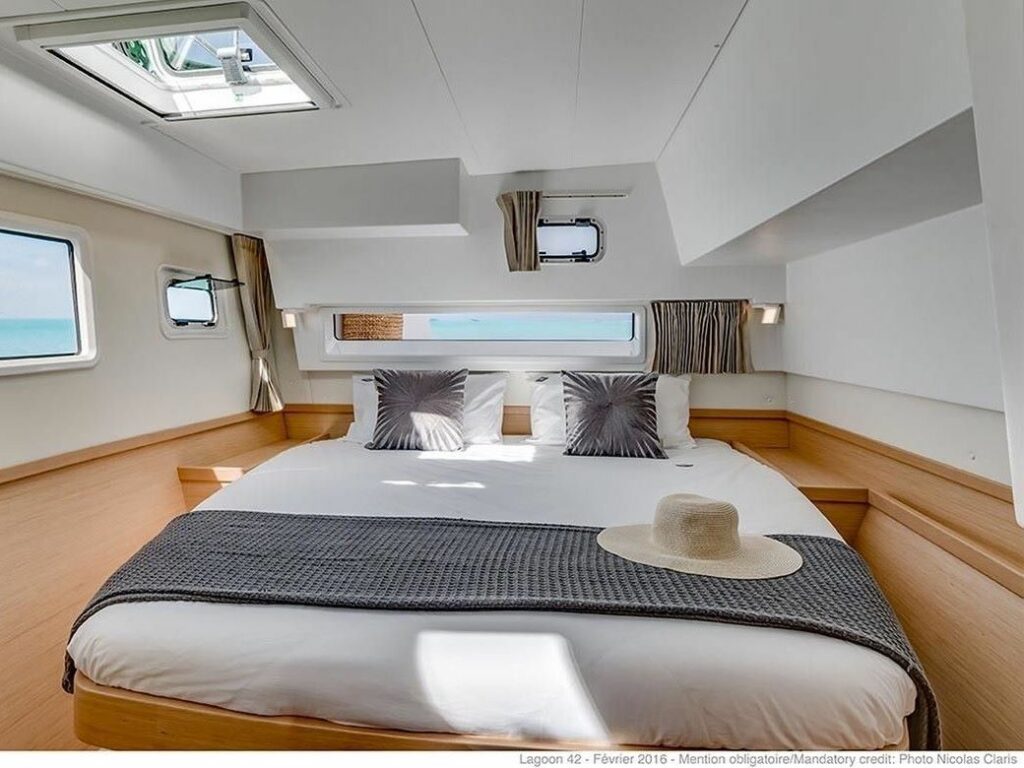 ---
Fabienne embarks with GlobeSailor for a lifetime of sailing holidays
The big winner of the competition
While surfing the web searching for her dream cruise, Fabienne stumbled upon the GlobeSailor contest. "I often participate in contests, always telling myself I won't win!" This time was different, as on January 27, Fabienne was drawn from nearly 50,000 participants. "I didn't believe it when I received Olivier's email. I was very suspicious and asked him to send me a second message to reassure me and confirm that it was not a scam."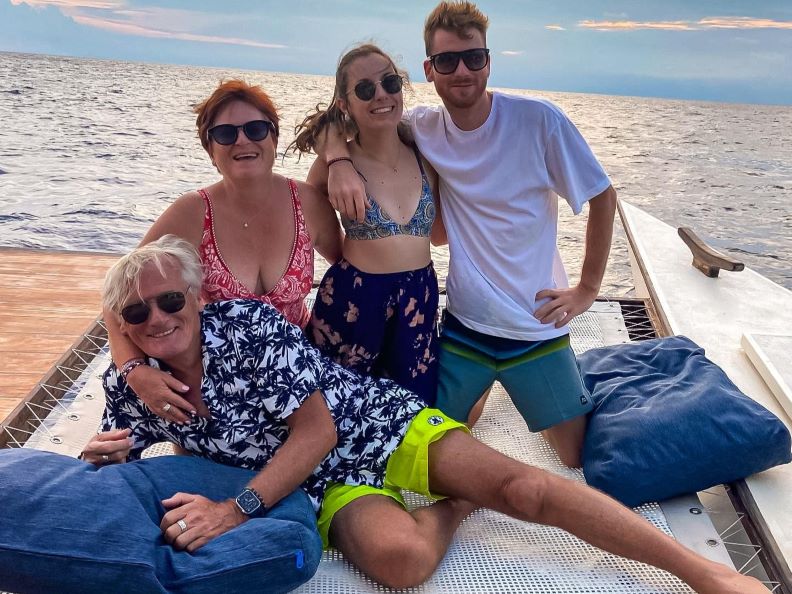 Upon hearing this news, Fabienne decided to keep it a secret. She nevertheless told her husband and her daughter. "I want to keep it between us for the moment. It's very personal. I will tell my friends when things are more definite.
At home, everyone is thrilled with the announcement and eager to sail. "If my partner is not available, my daughter will be delighted to accompany me. She works in the maritime industry so I'm sure she will be happy to be the client for once and get pampered!"
One week of sailing per year for life is the incredible gift GlobeSailor has chosen to offer in the contest. By sailboat or catamaran , with or without a skipper, for a sailing course or a cabin cruise , the rental agency will allow Fabienne to discover over 180 destinations. From Greece to the Seychelles, through the Grenadines or Corsica, there is no lack of choice. "The same day, we had a special "GlobeSailor" evening. We discovered your website and the large and varied range of products you offer."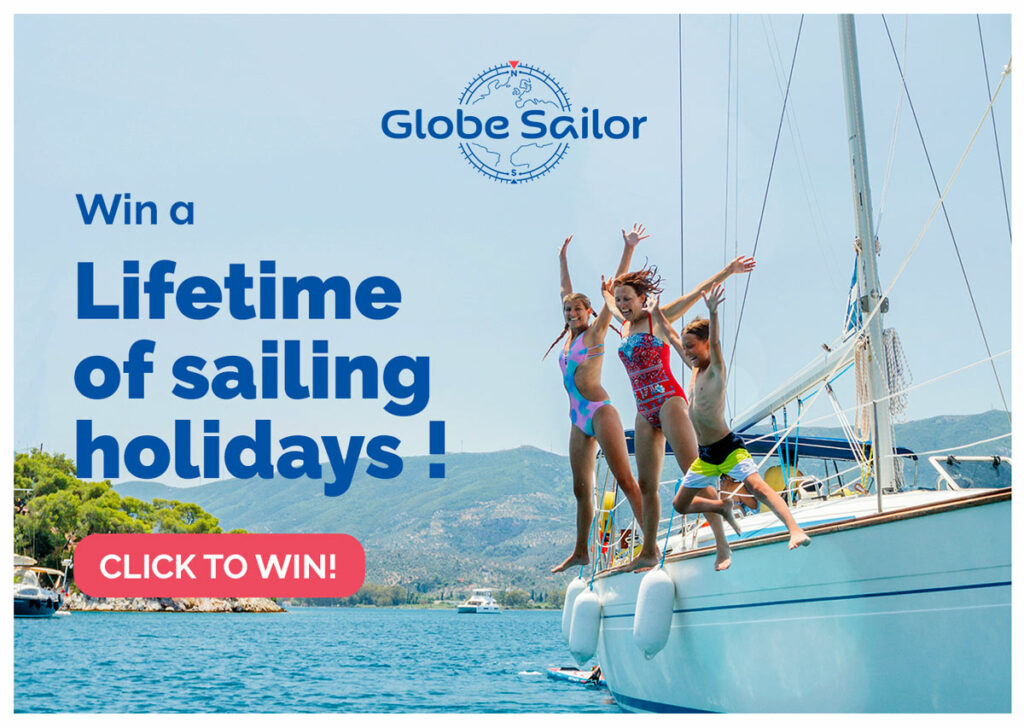 Head full of projects
To begin with, Fabienne is planning a cabin cruise in Greece with her husband, which will take place in September. For the next trip, she is thinking about the Grenadines in the Caribbean , an idyllic destination she has always dreamed of. Even if the cabin cruise remains the main focus, Fabienne is considering travelling with her loved ones on a private sailboat with a skipper. "This gift offered by GlobeSailor is an opportunity for our friends to enjoy. The price remains affordable by deducting the €3,000 on a yacht charter."