Unless you've been living under a rock, it's almost impossible not be cognisant of 21st century environmental issues. However, when it comes to marine pollution in particular, many of us are not quite as well informed as we should be. Since the beginning of time, people have relied on the water to transport cargo from A to B. Over 5,000 years ago, the first major trade route between modern-day India and Pakistan was established along the Arabian Sea. While boating has very much evolved since then, it has become increasingly harmful to the environment both globally and locally. However, the nautical industry is working to bring about sustainable solutions. This first article presents an overview of various 'green initiatives.' And in the second instalment, we will share a practical guide for the modern-day 'eco-friendly' sailor.
Pathways to more sustainable boat construction
The nautical industry constructs 95% of pleasure boats with composite materials, about 3% with aluminium, 2% with wood (plywood or moulded wood) and less than 1% with steel (source: Plaisance écologique). While composite construction is less expensive and allows for lighter boats that are easy to maintain, this material is derived from the oil industry. The production of resin and fibres requires a large amount of energy (and emits carbon accordingly). Manufacturers are aware of this. The bio-composite division of Roland Jourdain and Sophie Vercelletto's design office, Kaïros, is a major player in developing sustainable alternatives. Another innovative company is FlaxComposites – they put flax in boats, literally! Flax fibres can be incorporated into composite panels for boats; a 100% natural and sustainable alternative to traditional composite materials. Check our Sailing Today's review of the fascinating Bente 24 (pictured below) – a boat made of hemp!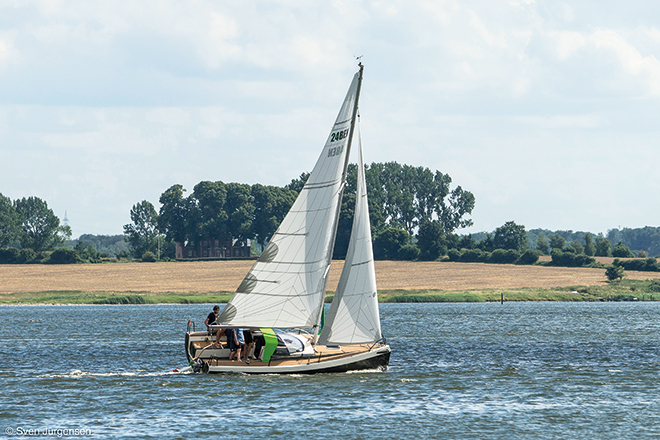 If these initiatives flourish, it won't be long before we see flax fibre in all new yachts! But there's also activity amongst bigger boating players. Bénéteau has begun to reflect on the impact of its activity by launching a lifecycle analysis of boats that begins at the very early design stage and continues until the vessel is fully built. The French company is working to improve the energy efficiency of its construction sites and reduce its consumption of raw materials by optimising production techniques. In order to decarbonize emissions linked to the export of its vessels, Bénéteau is a partner of the ambitious Neoline project – aiming to bring sustainable solutions to the shipping industry.
The ocean racing world is also taking action. British skipper Phil Sharp is the figurehead of the OceansLab project. In combining his passion for clean tech and ocean racing, his ultimate goal is to completely decarbonise the shipping industry. Phil is already making waves in his 'race to zero emissions' as he currently holds two world records and has multiple ocean racing wins under his belt.
The Blue Flag Initiative: Harbours are going green… or blue!?
As marinas concentrate boating activity on the coast, they have a profound effect on the local environment and biodiversity. To alleviate this, local and port authorities often get involved in 'green initiatives'. The Blue Flag is an internationally-recognised environmental and tourist certification that is available for beaches but also for ports and harbours. The criteria range from simple environmental awareness to water and waste management (collection and selective sorting of waste, recovery and treatment of polluting liquids…). Aside from Blue Flags, ports also make efforts to test innovative solutions to deal with marine waste such as robotic waste vacuum cleaners or floating dustbins.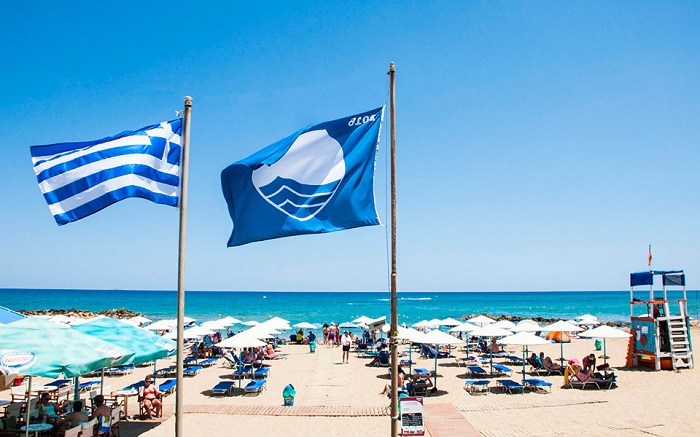 A stumbling block? How to safely and sustainably maintain boats.
One of the grey areas in terms of vessel maintenance is the application of antifouling as this paint contains chemicals that are harmful to the marine environment. For context, according to Voile Magazine [Antifouling: Paint without biocide the balance], just 1 gram of biocide pollutes 10,000 m3 of water. Fortunately, alternatives are emerging, such as silicone-based paints. Moreover, the range and quality of equipment on board has dramatically improved and has enabled us to be less 'hands on' when sailing (all whilst becoming more energy-dependant however!). The development of solar panels, wind turbines, hydrogen generators and next-generation battery technology does make it possible (but costly) to completely switch-over to renewable energy.
Recycling end-of-life boats
The question of boat deconstruction (and its financing) has been a contentious issue in nautical circles over the past few years. In France, deconstruction centres approved by the Association for Eco-Responsible Yachting (APER), which is responsible for recycling pleasure and sports boats, have been operational since summer 2019. The deconstruction is the responsibility of the APER, however the (costly) transport to the treatment centre remains the responsibility of the boat owner.
What happens to the boats once on-site? Vianney Dupont, an independent consultant specialising in nautical activities and their environmental effects, explains: "Metals and wood can be repurposed, but the challenge is to recycle the bio-composites (the hulls). Today, this waste is either buried or incinerated. These materials can be put to new use though. For example, they can be used as a plastic agglomerate to make recycled furniture". This is precisely the objective of the APER for the next few years, to find ways for our hulls to be reused as part of the circular economy philosophy. Another brilliant concept that helps contribute to the recycling of obsolete vessels: Land-bound boat homes!
Author: Sidonie Sigrist
The original text was translated and adapted for publication on the GlobeSailor blog. Start planning your next sailing adventure today.
Read the second instalment of 'From Blue to Green' here.