Who prepares the boat, takes care of sailing and navigation, ensures safety on board and advises you on land calls? It is... The skipper! This crew member who makes your cruise possible. Usually, when you charter a boat with a skipper, it is the owner who is in charge of finding the most competent person. Today, it is you who takes the helm thanks to Capt'n Boat. By putting yachtsmen and professional skippers in touch, the site offers a unique service!
Embark with the skipper of your choice!
To make sure your cruise is under the best guidance, the search for a good skipper is not to be taken lightly. Capt'n Boat, the young company created in 2018, has made it its mission to put holidaymakers in touch with experienced skippers/captains. Ease, serenity and safety are what the new platform offers. A small revolution in the boat rental sector: you can now select and exchange with your skipper before your departure!
How does it work?

Whether you have already set off on a cruise with a qualified skipper or whether this is your first time boarding, the apprehensions remain the same: will the skipper be part of the crew? Will the skipper adapt to our sailing desires? Will they be willing to teach us the basics of sailing? Capt'n Boat puts an end to your questions! We present you our new offer in 3 words:
1. Ease
2 options are available to you to find your skipper:
- Let your GlobeSailor adviser find a skipper for you
Your GlobeSailor expert will find THE skipper for you. Give them your cruising programme (let them know if you would rather learn how to sail or if you would prefer to sail from island to island...), details about your crew, languages spoken, etc. They will find you the skipper who will make your cruise a success. After all, a holiday is also about taking care of nothing, isn't it?
- Find the profile that suits you
Nothing could be simpler! Register for free on captnboat.com and then post an ad with details of your boat, port of departure, dates, etc. Once your advertisement is created, Capt'n Boat strictly offers you profiles of skippers who have the right credentials and titles to meet your needs. It's easy! You will be notified when skippers have applied to your ad. You have no idea how much you will need to pay for your skipper? Don't panic, Capt'n Boat will suggest a remuneration corresponding to the market standards.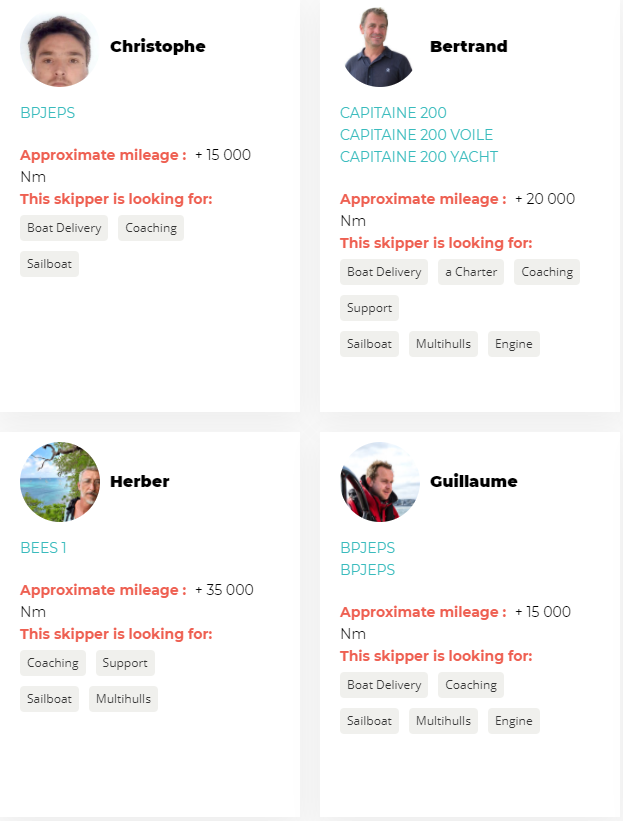 Please note: today, Capt'n Boat lists French, Spanish, Italian, Croatian, Greek and British crown territories. Whatever your cruising project, you are bound to find the skipper who corresponds to your expectations.
2. Serenity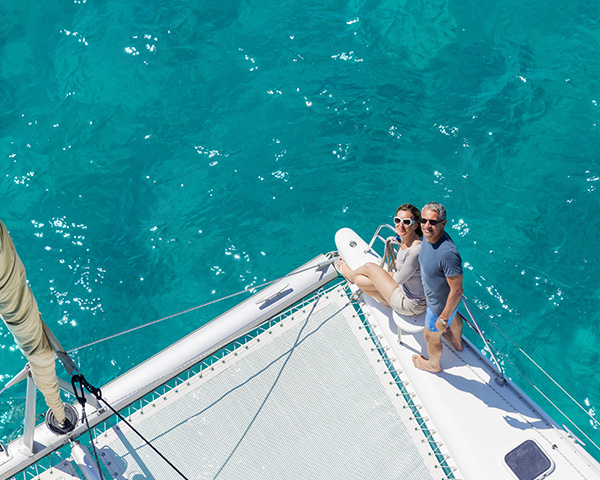 Once your skipper has been selected, there is no more stress of preparation. Simply validate the details of your cruise before boarding! Don't hesitate to ask your future captain all of your questions. They will also help you choose an itinerary and recommend the most beautiful ports of call according to your desires.
In short, Capt'n Boat means fewer interlocutors, easy communication and the assurance of finding the professional skipper who will make your sailing dream come true.
3. Safety
In addition to referencing only qualified professionals, Capt'n Boat offers a double assurance to provide you with a quality service in complete safety. Each service booked via the platform benefits from a Skipper's Civil Liability and a multi-risk damage insurance (up to 1 million euros). What more could you ask for?!
To publish your ad, register here!
We are delighted with this new partnership which allows us to perfect our range of exclusive services with the sole aim of offering you a peaceful departure and an unforgettable cruise!