Do we have the best job in the world? Possibly!
Anne and I had the opportunity to fly to Seychelles and test a sailing cruise in the mythical archipelago of the Indian Ocean – a hard week at work, eh… 😊!
The program for our Seychelles Cruise
Swimming, sailing, sun-bathing and 'sundowners' (cocktails at sunset)… but that's not all!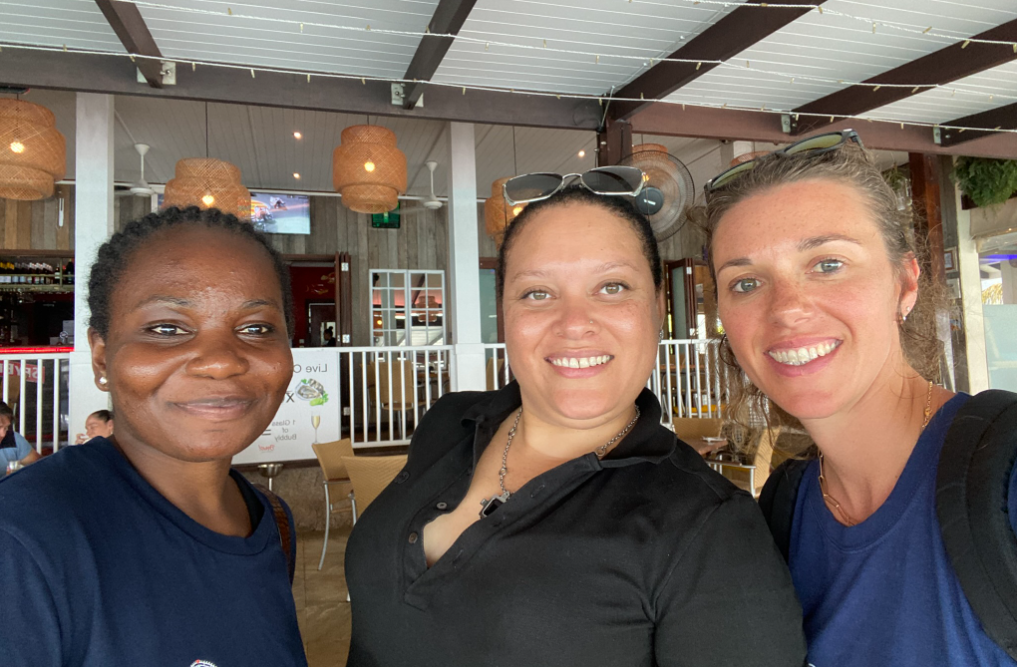 Actually, we were there to work, meet our local partners, to become more familiar with the archipelago and its islands, and to advise our clients who will embark on cruises departing from Praslin or Mahé. It's important for us to form our own opinion of the quality of the cruise, the itinerary and the services of our local partners.
I would like to thank Wolf and the My Seychelles team who welcomed us aboard a splendid Lagoon 46 for a dreamy 6-day cruise on the turquoise waters of Praslin.
Embarkation: Praslin – a great choice for a variety of itineraries
We began our sailing cruise on the Lagoon 46 at Praslin. It's worth knowing that the ferry transfer from Mahé can be a little bit hectic! We had strong weather conditions with 25 knots of wind and waves of 3 to 4 meters high. The crew is well trained and made everyone as comfortable as possible but there were many people who had not yet 'found their sea legs' during this 1hr crossing between the two islands. As I'm sure you're aware, travelling can be tiring, so after a long flight we advise you to take the opportunity to relax on Mahé before heading to Praslin.
The advantage of sailing from Praslin is the number of islands nearby and the very short sailing times (sometimes less than 30 minutes between islands). It is therefore a sailing cruise perfectly suited to those who are less familiar with navigation, or for families with children.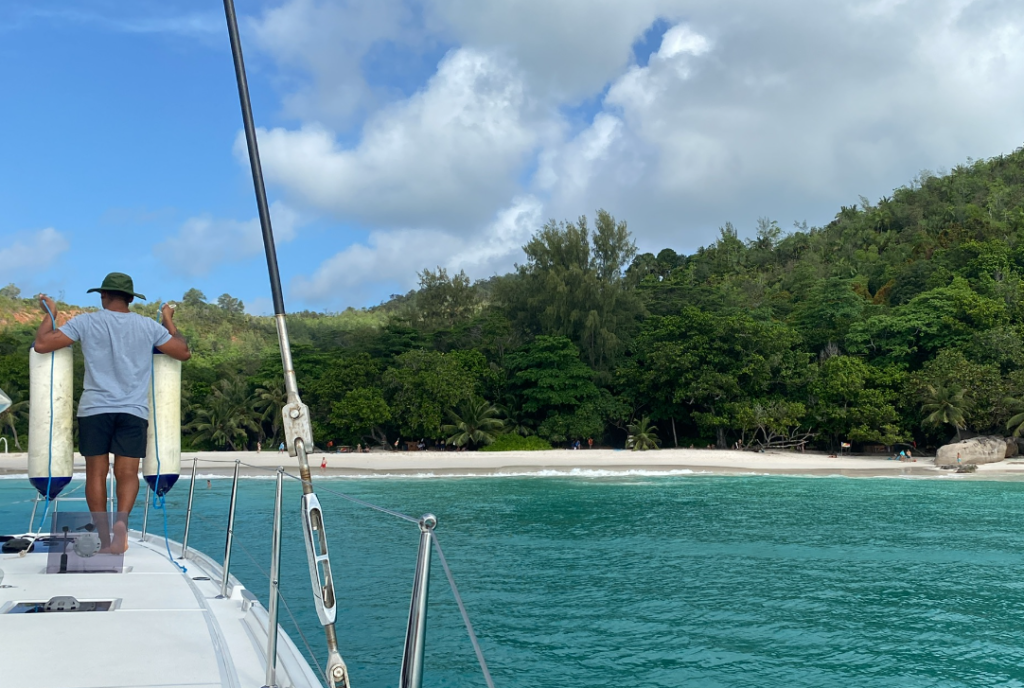 We were able to discover the islands: La Digue, Félicité, Curieuse, Petite and Grande Sœur… and sailing on a vessel such as a catamaran even allows you to dock along private islands that are usually inaccessible (like Félicité, for example). What we liked most about this Seychellois cruise was the "free"/at ease navigation program. Indeed, no planned itinerary; the captain, depending on the passengers and the weather, will adapt his itinerary, the anchorages and the time spent on each island.
The crew: Fabrice and Jean-Paul – an incredible sailing duo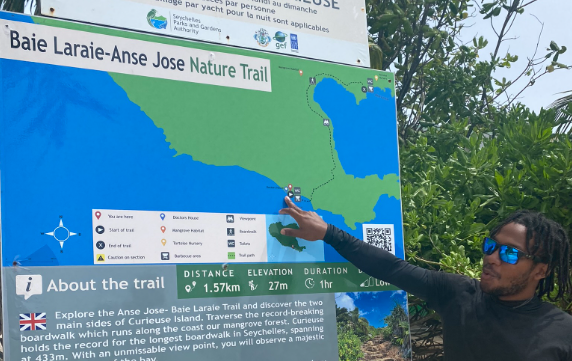 I cannot give you my opinion on this sailing cruise in Seychelles without mentioning Fabrice (Fab') our skipper and Jean-Paul, our cook on board. The entire sailing cruise was incredible, thanks to the human and professional qualities of these two sailors. Fabrice, only 21 years old, knows the boat, navigation and the archipelago like no other! He grew up on a boat in the Seychelles, traveled the oceans and today devotes himself body and soul to the well-being of his guests on board.
As for Jean-Paul, from morning to evening, he can be found in the kitchen and preparing each delicious meal, fresh fish (that he caught the very same day!), succulent meat (often beef or chicken), fresh vegetables and salads accompanied with pasta, rice and/or potatoes. And in the evenings, a delicious dessert completes the already very copious menu! Be warned – it's difficult to say no to food when Jean-Paul is onboard 😊.
In short, congratulations to our dear sailing crew! You were able to share with us the love of your island; perfectly illustrate the kindness of its inhabitants; and make us aware of the beauty and fragility of an ecosystem in permanent balance.
Life off and onboard the catamaran
We boarded the catamaran with three other couples, two German couples and one Italian couple. Each cabin onboard has its own private bathroom and although compact, the cabins really are optimized to the layout of the Lagoon 46, allowing very good conviviality during meals or while sailing in the saloon or on the flybridge, while offering the necessary privacy that everyone desires. There is also plenty of time on land during stopovers and everyone can freely swim, indulge in a snorkeling session or go hiking near the boat. For example, we rented bikes in La Digue for a day to stretch our legs and visit the riches of the island.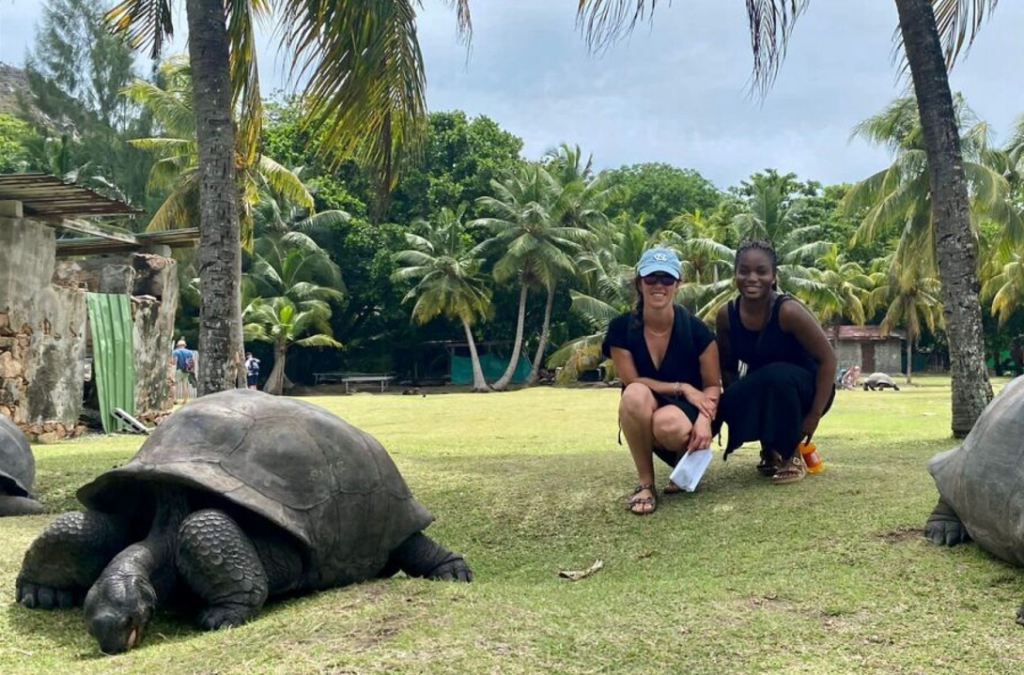 It's certainly a novel experience to live a week on board with complete strangers, but everyone had a shared state of mind, showing openness and curiosity – the conversations, games and shared moments were numerous, very pleasant and good fun! A real sailor's life in short! We were very sad to leave each other and our WhatsApp group is already full of photos, jokes and memories of all kinds…!
Summary: Our tips for your Seychelles sailing cruise
Whatever the season, there may be cloudy periods with light or heavy rain. Don't panic, they remain short-lived. Remember to tuck your belongings into the boat and close the porthole of your cabin. On the occasions when it did rain, Fabrice even came to pick us up from the beach and take us back to the catamaran by tender.
Bring swimming shoes to protect your feet as, unfortunately, some beaches have numerous remains of dead coral.
Some beaches can be exposed to a fairly strong current. Be vigilant when swimming, especially if the area is windy. Do not stray too far from the boat at anchor and always ask your skipper for advice.
Seychelles requires an entry authorization – €10 payable via this site: https://seychelles.govtas.com. By validating this authorization, you can also add an internet package which we recommend because the prices are much higher once you arrive on the island.
Conclusion
Teleworking in the Seychelles is really great! And if your boss doesn't agree, you can always come here on vacation! 😊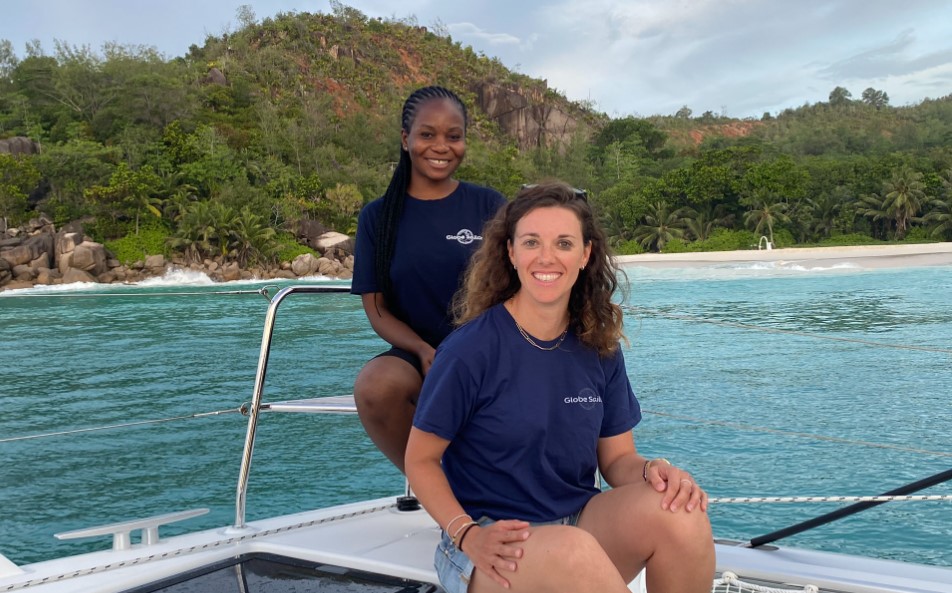 We advise you to combine the cruise with a stay on land in Mahé, purely to enjoy this jewel of the Indian Ocean for longer. Boarding sailboats or small boats allows you to access extraordinary isolated beaches and anchorages, with the only noise at night fall being the lapping of the water on the hull of your boat… what more could you wish for?😊
Anne & Marie – GlobeSailor Cruise Managers