Inventory of bases affected by IRMAMore than 80% of the boats based in Tortola, Marigot, Lonvilliers Marina, Oyster Pond and Gustavia were destroyed by Hurricane Irma or taken offshore. It is estimated that the net loss is between 450 and 500 boats. These include sailboats or catamarans for charter, excluding the fleet of motor boats.
Conch Charter, BVI Yacht Charter, TMM, CYOA Yacht Charter, Harel Yachts are the most affected charter companies. Their bases were blown away by the hurricane in a few hours. The charter fleets such as Sunsail, Moorings, Dream Yacht Charter or VPM have of course experienced heavy losses but their presence in other destinations around the world and the Caribbean allows them to offer alternative solutions to their customers, modifying the destination of the cruise, or by sending brand new boats to the disaster areas. Tortola and Saint-Martin account for 15% of Sunsail and Moorings bookings in the Caribbean. Dream Yacht charter will have already reopened these winter bases from January!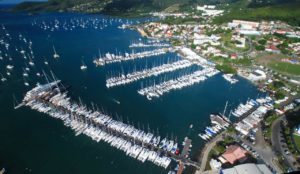 Marin Yacht Harbour in Martinique, where many of the departures planned in the affected areas are re-directed to.
Although most bases are adapted to cope with extreme wind conditions and have resisted well, it will take an estimated 2-3 months before they are able to welcome visitors again. Sunsail and Moorings have announced a partial reopening of Tortola from October 31st.
Stage 2: Reconstruction
Shipyards are needing to be imaginative in order to successfully meet the bases' urgent demand for the delivery of new boats. Lagoon and Fountaine Pajot have changed the delivery schedules to give priority to the victims: maritime unity! Many new models that were to be available next summer in the Mediterranean will therefore not be delivered on time … You'll understand, the orders are overflowing so the sales of second-hand boats will probably rocket!
Irma has also re-shuffled several charter bases. Some renters who usually send their boats to the Caribbean for the winter (Saint-Martin or Tortola) have decided to open new bases in Grenada, Domenica or St. Lucia. New islands to explore!

The charming Rodney Bay marina at Saint-Lucia.
It will take several years for landscapes and infrastructures to return to normal. Beyond the nautical industry, it is the entire economies and tourist industries of these islands that has been threatened. Shops, restaurants, hotels, tour operators… these are tens of thousands of jobs at stake. Saint-Martin welcomes more than 2 million visitors each year! These countries will eventually be able to recover and they are already working to make things better: so don't run away from these fantastic islands, let us help them rebuild!
Olivier Albahary, founder of GlobeSailor.