We are updating our website in order to inform you as best as possible about the additional health measures put in place by each of our rental partners. For the past 10 years, we have only selected professional charter companies that we trust, who are committed and whose boat maintenance and services meet rigorous quality standards. The Federation of Nautical Industries (France) has issued a number of new protocols to the charter operators in order to welcome sailors in the best possible conditions: protection of employees at the base, distancing measures in the charter offices, signage showing rules and barrier gestures, disinfecting of boats, skipper tests, boat handling, etc. We ensure that these instructions are implemented by our entire partner network to guarantee the highest level of safety for clients. Each of these specific safety measures are now available to view on our website and are included in all new quotes sent to our clients. For peace of mind, each boat description on theglobesailor.com includes a complete list of health and safety measures deployed at the relevant charter base.

When conducting a new yacht charter enquiry, a green icon will inform you of the implementation of Reinforced Health Measures at the charter base and on board the vessel.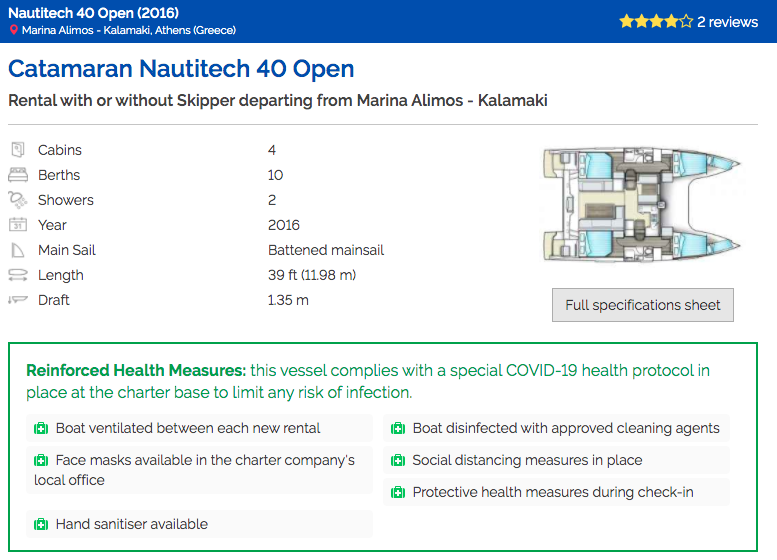 Then, on each vessel description you will be able to consult a non-exhaustive list safety measures that the renter endeavours to implement for its clients. Check that the boat will be disinfected and ventilated and that the protocols stipulated correspond to your level of sanitary requirements. We would nevertheless like to remind you that despite these measures, each crew member must still remain vigilant and maintain a social distance when travelling on the pontoons or at the marina. We are still in the process of updating each boat in our database with their respective health protocols. This takes time, so please do not hesitate to consult your GlobeSailor advisor if the boat you are chartering does not yet display a green Reinforced Health Measures icon.

We invite you to read our other coronavirus-related articles on the precautions to take when chartering a boat as well as our advice in case of illness on board.