Tahiti, Bora Bora, Moorea – the names may conjure up overwater bungalows and luxury hotels, but the best way to island hop around French Polynesia is by boat.  The 118 islands spread throughout the South Pacific are some of the most outstanding cruising regions in the world.
Find Your Charter Base
The largest charter base in French Polynesia is located at Raiatea in the Society Islands.  GlobeSailor also has boats throughout the Society Islands, and even a few in the Marquesas and Tuamotu.  Aside from population density, each island group is distinct.  The Society Islands are well-touristed, with a variety of accommodations and the geography is tall volcanic islands with surrounding reefs and motus.  The Tuamotus are low lying coral atolls, remote and pristine.  The Marquesas are even farther removed from the rest of the world, and are full of lush jungles and tall craggy islands.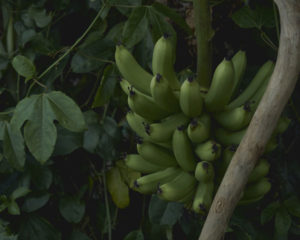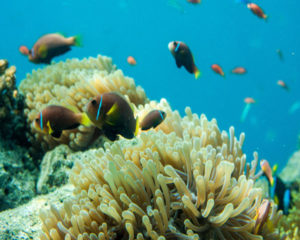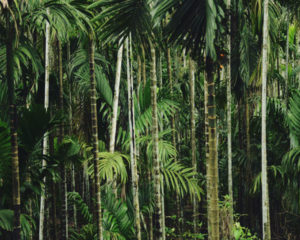 Raiatea at a glance
Cruising around Raiatea is interesting enough for many days.  A hike to the top of Mount Taipioi on a clear day gives a stunning view over the lagoon and even out as far as Bora Bora.  Fa'aroa Bay has mooring balls and a meandering river, with nearby locals you can hire for a tour of the native flora.  Anchoring is available next to Marae Taputapuātea, one of French Polynesia's best preserved archaeological sites.
Provisioning in French Polynesia
The Tuamotus and Marquesas are remote enough to make provisioning a little challenging.  The Marquesas Islands are a fertile ground for produce, and the bigger islands have magasins with necessities.  The Tuamotus can't grow much on their sandy land, so products are imported from elsewhere.  The Society Islands, including Raiatea, have large supermarkets.  Since French Polynesia is, in fact, French, there is an abundance of French products; wines, cheeses, pâtés, and no morning is complete without a fresh baguette!
Explore Beyond Raiatea
Raiatea is a full day sail from Tahiti or Moorea, but the nearby islands of Taha'a, Huahine, and Bora Bora provide a closer playground for sailors.  Raiatea and Taha'a are surrounded by the same reef, making sailing and anchoring comfortable. Taha'a is home to a vanilla plantation and coral garden.  Huahine has an unusual attraction – blue eyed eels.  Bora Bora is every bit as beautiful as its reputation claims, with clear water and miles of sandy, pristine beaches.
Explore with Your Stomach
Like most Polynesian islands, a tamara'a, or a feast, is a big part of the culture, and the people of French Polynesia have their own version of the most popular cooking method in this part of the world – an ahima'a, or underground oven. Fish, pork, and assorted vegetables are often roasted in this oven for a big celebration.  While dining out, though, one should look out for poisson cru, French Polynesia's version of ceviche; tuna "cooked" in lime juice with coconut milk and vegetables, served over a bed of rice.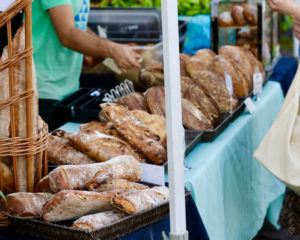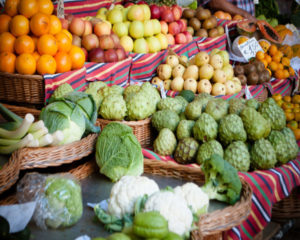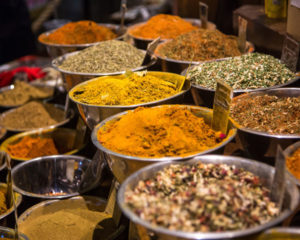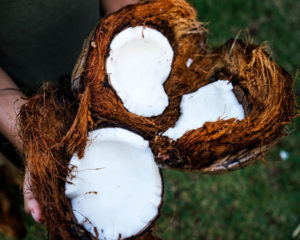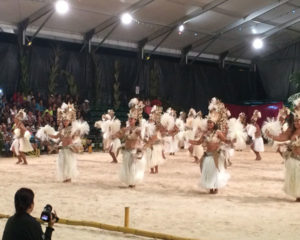 A Special Treat in June & July
Sailors who visit in French Polynesia's winter months will get to see a special treat; a Heiva!  The Heiva celebrates the traditional dancing of French Polynesia, which almost disappeared when missionaries labeled it as "immoral".  Slowly, the Christian influence over the islands began to fade, and in 1955 a dance troupe called Heiva Tahiti was formed.
Even if you don't visit French Polynesia in time to catch a Heiva, you can still enjoy a traditional show at one of the many resorts. We attended one at the Bali Hai Hotel in Moorea…watch out for the audience participation!
Anchorage in Bora Bora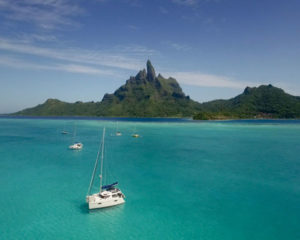 Starry Horizons in Moorea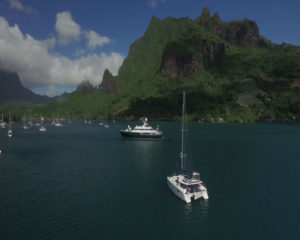 Check Out Some Massive Marine Fauna
Diving and snorkeling opportunities abound, and we're not just talking about the many black-tipped reef shark and stingray feeding stations.  No visit to French Polynesia is complete without seeing a manta ray up close from either the surface of the water or below it.  Popular cleaning stations in Bora Bora mean that manta rays all around all year, and it's almost a guaranty to see them in the right places.  Depending on the time of year, you can also see lemon sharks, humpback whales, and eagle rays.  These experiences will make it unlikely for you to forget French Polynesia anytime soon.
Stingray in Moorea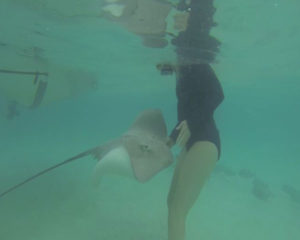 Manta Ray in Bora Bora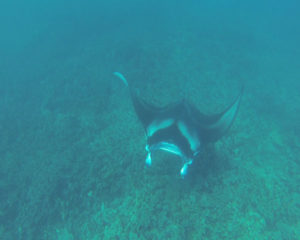 About the author: Written by Amy Alton, who been sailing around the world with her husband aboard her catamaran, Starry Horizons, since 2014. Amy & David share their adventure at Out Chasing Stars and French Polynesia is still one of their top favorite cruising grounds.