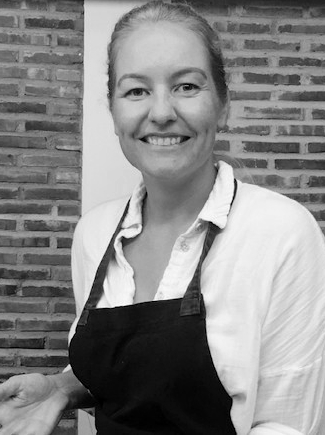 This article was written by our customer rentention manager Louise, who worked as a cook and hostess on cruise ships for 4 years.
Check out these tips and tricks from a true expert to ensure your refuelling is a success and your yacht is properly provisioned!
---
Your boat is booked, the departure date is set and everyone is excited to go sailing… There's only one last task on the checklist: provisioning your boat.
Yacht provisioning
//Definition
Acquiring food and sundries for your sailing trip.
Not sure what to cook? Where to buy ingredients? Don't fret, GlobeSailor has got your back! Check out this handy and straightforward guide to help you organise your provisions. Your crew will definitely thank you for it!
---
What to bring?
In this article, you'll find a list of the best foods to bring on your charter. Remember that each destination will have different food brands available, and they might differ from the products you're used to. If you're attached to a particular product or have special dietary requirements (lactose-intolerant, coeliac or vegan), be sure to order specific products in advance or bring them with you.
Fill up on water
Water, water and more water!
Hydration is key to staying healthy and happy while on your charter, especially if you're sailing in a sunny destination. To stay hydrated, each crew member should be drinking 2 litres of water per day. To avoid having too much plastic on board, GlobeSailor recommends buying a few 18-litre water containers (with dispensers) and filling smaller water bottles to keep them cool in the fridge as you go.
Don't forget that you may also need water to prepare hot drinks and to cook food such as pasta, rice, potatoes!
Fill up with water on board before you leave (in the boat's tanks) and plan your refuelling according to the ports on your sailing route.
Conserve water! Whenever possible, rinse your products with sea water.
Seasoning
Almost all meals are better when seasoned! Do' notn't forget the basic condiments in your provisioning.
The list of essentials according to Louise:
Natural sea salt
Black pepper
Good quality olive oil
Dried herbs: basil, oregano, rosemary
Salad dressing
Butter
Stock cubes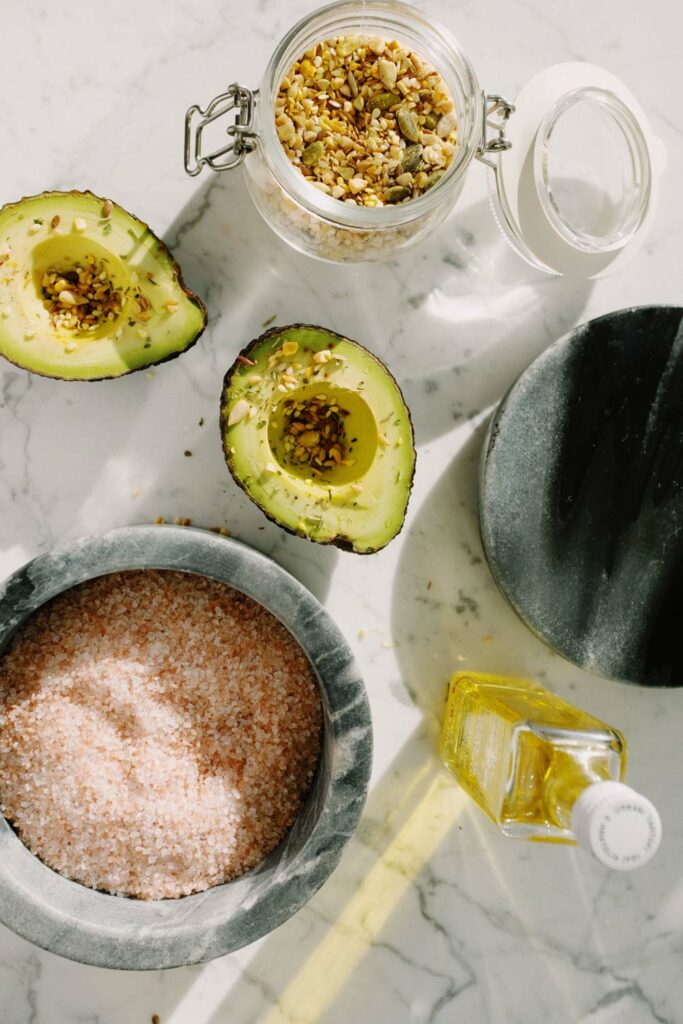 Pasta/Rice/Couscous
Starchy foods and dry foods are quick and easy to cook and keep very well. In addition, you can use the leftovers to prepare an excellent salad for example.
Canned products
Canned goods are ideal for preparing meals quickly:
Fish: tuna, mackerel, sardines
Beans: white beans, kidney beans, black beans
Chickpeas
Corn
Beetroot
Olives
Pickles
Fruits: pears, pineapple, mangoes, tangerines, etc. are easy to serve for breakfast or dessert and can also be eaten as a snack throughout the day.
Vegetables and fruits
Summer is the best time to enjoy fresh seasonal fruit and vegetables:
Tomatoes can be used in many ways: salads, sauces, juices…
Baked, boiled or fried potatoes.
Onions, shallots and garlic: easily add flavour to your dishes.
Lettuce: choose a whole lettuce head rather than pre-packaged leaves. It will keep longer.
Tip: If you can't finish your meal, keep the leftovers and use them to make a salad!
Eggs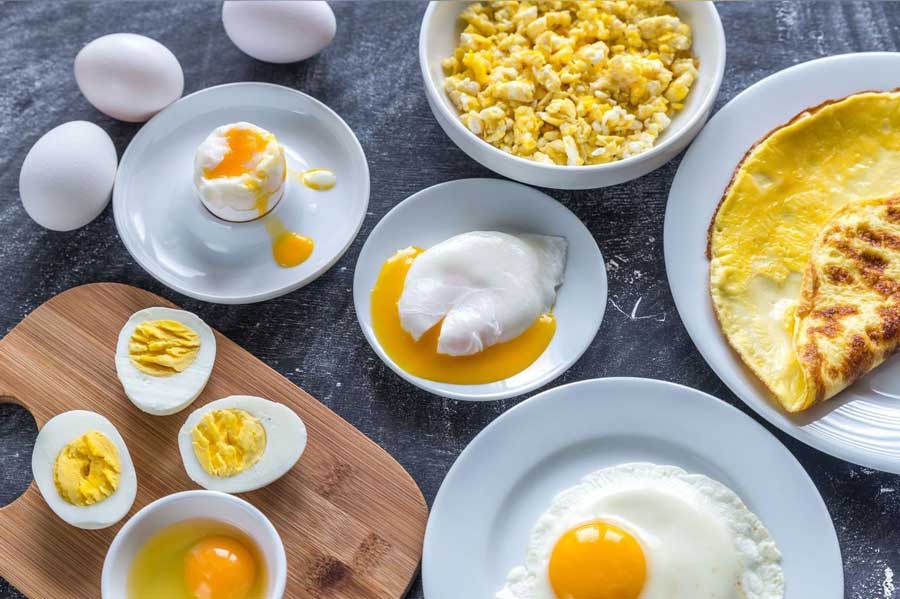 Eggs are an incredibly versatile and nutritious food that can be enjoyed for breakfast, lunch, dinner, or a quick snack. They require minimal preparation time, making them a convenient and delicious choice for any meal.
Ice cubes
First of all, make sure your yacht charter is equipped with a freezer. On hot sunny days, there's nothing like a few ice cubes to cool down your drinks.
Utensils
A kettle, pots and pans, chopping boards, knives and cooking utensils should be available on your boat. However, be sure to check the list of utensils available in the boat's inventory. Here is a list of the essentials you will probably need:
Bottle opener or corkscrew
Can opener
Strainer
Cling film, to protect your meals from flies and to store leftovers.
Lighter, to light the hob
Tea towels
Sponge and washing up liquid
Kitchen roll
---
What not to bring
Too many fresh products
Fridge space is often limited and you will definitely want to save some room for water, beers and some wine.
Most ports host markets for local traders, and have supermarkets nearby where you can stock up on vegetables, fresh fruit, fish, meat, cheese and bread.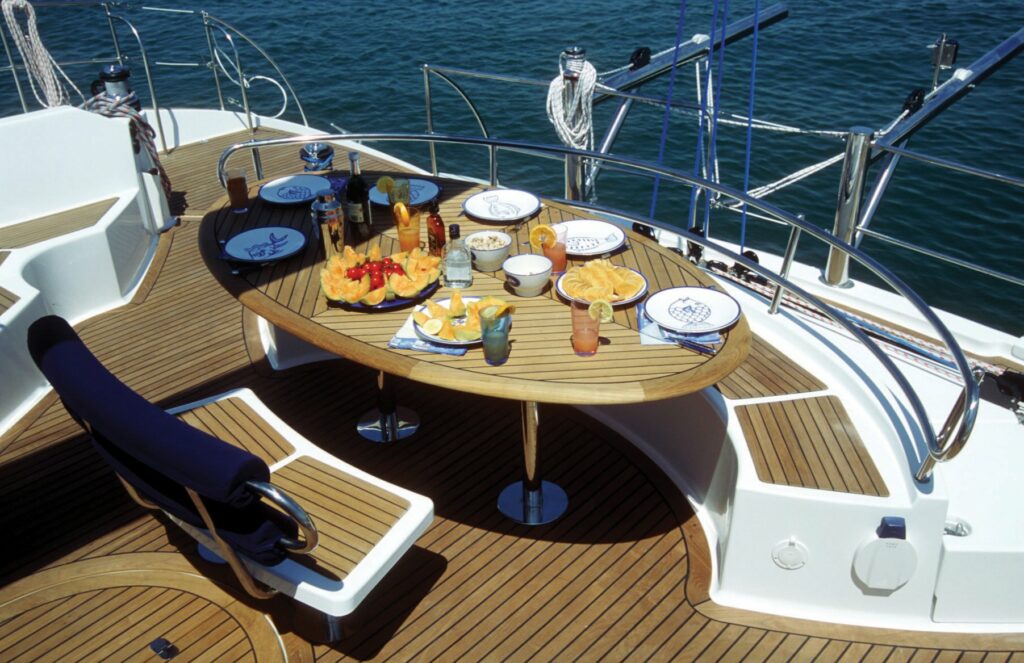 So bring enough fresh produce for the first leg of your trip and plan for a restock along the way.
Glass bottles and jars
There are 2 main reasons why you should avoid glass bottles and jars as much as possible (water, fruit juices, sauces):
The boat's movement on the sea can cause glass objects to fall and break, causing a hazard on board.
Glass bottles take up a lot of space in the bin. Additonally, you will need to separate them for recycling.
Choose products packaged in cardboard or aluminium: they can be crushed and recycled easily. If you use plastic bottles, store them separately for recycling at the port.
Products that are difficult to store or keep cool
If something is taking up a lot of storage space, be sure that it's important!
Before you buy larger products, ask yourself:
Do you have enough space to store all your food? Does your crew want to eat this food every day?
Some examples of products that can be complicated to store on board:
An entire watermelon
Products in large bottles, such as tomato sauce
Large tubs of ice cream: space is limited in the freezer, so choose ice cream cones or individually wrapped frozen ice creams/desserts instead.
---
Other tips and tricks
Fruit storage and preservation
Don't forget to leave room in the fridge to store your fruit (not bananas, of course) so you don't attract midges on board.
Most fruits, such as tomatoes, taste much better when they are at room temperature. Be sure to take them out of the fridge a few minutes before serving.
Disposing of food waste
Remember that you must be more than 12 miles from shore to throw your food waste overboard. If you're considering "feeding the fish" in the bay, think twice. Food can bring in unwanted bacteria and insects and affect the ecosystem. Fruit peel can float for years because they are not as biodegradable in water as they are on land. So be sure you're helping and not hindering the marine fauna and flora.
Louise's tips to make your life easier
Salad dressings : in a bottle, put olive oil, shallots, garlic, balsamic vinegar, mustard, salt, pepper, honey, and voila!
Chickpeas are best if you soak them overnight and cook and peel them yourself, but are you really ready to dedicate that much time to making a chickpea salad ? You can buy great boxed alternatives. Just be sure to rinse them well!
Risotto is a delicious dish and if you're willing to spend an hour in front of the hob to prepare this perfectly cooked rice, then why not… But if you'd rather join the others on deck for a cocktail or a glass of wine before dinner, go for an easy-to-bake risotto option.
Use the microwave to heat water for coffee or tea, leftovers or even a pizza to go.
---
Quick and easy meals
Unless you're an avid cook, no one likes spending too much time in the kitchen while others are relaxing in the sun or having fun in the water. Plan your meals ahead of time, think about what you would like to eat and what you can easily prep in advance. If you're looking for inspiration, here are Louise's suggestions for 5 easy recipes to prepare on board.
Get organised: take advantage of days of bad weather by prepping for your next meals.
Be adventurous: if you discover new places, look for the local specialties and the places (restaurants, local markets…) where you can taste them.
---